Peer Review
Help determine research for tomorrow, by becoming a peer reviewer today.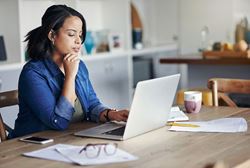 Most of the AHA's research funding opportunities are evaluated using the peer review process. With thousands of proposals submitted each year, the AHA relies on volunteer researchers and leading experts to impartially review proposals for research funding. Ultimately, their assessments and discussion result in ranking the ideas most worthy of funding.
What is a Peer Reviewer?
A peer reviewer is an expert in the same science field as the work being proposed (peer). Their review of the submitted work is considered necessary to ensure academic scientific quality.
The AHA recruits reviewers who work on basic, clinical, and population research in the following areas:
Artificial Intelligence
Basic Cell - Cell Structure and Survival
Basic Cell - Genetics and Epigenetics
Basic Cell - Membranes and Subcellular Organelles
Basic Cell - Proteins and Crystallography
Basic Cell - Regenerative Cell Biology
Behavioral Science - Prevention, Management, and Intervention
Bioengineering and Biotechnology
Brain, Stroke, and Cerebrovascular Disorders
Cardiac Arrest and Resuscitation
Cardiac Biology and Regulation
Cardiac Electrophysiology and Arrhythmias
Cardiomyopathies
Cardiorenal Syndromes
Cardiovascular Development
Cell Transport and Metabolism
Data Science
Epidemiology and Population Sciences
Genomics and Translational Biology
Health Equities
Hypertension
Immunology and Virology
Lipoproteins - Lipid Metabolism and Nutrition
Machine Learning
Microbiology and Infectious Disease
Molecular Signaling
Natural Language Processing
Neural Networks
Pulmonary Respiration and Resuscitation
Quality and Outcomes Research
Radiology and Imaging
Social Determinants
Surgery and Anesthesia
Thrombosis
Vascular Biology - Angiogenesis
Vascular Biology and Blood Pressure Regulation
Vascular Endothelial Biology and Function
Vascular Wall Biology - Atherosclerosis
Vascular Wall Biology - Non-Atherosclerotic Disease
What is the Peer Review Process?
Chairpersons and reviewers receive training/orientation to the AHA review process and criteria.
Peer reviewers are grouped into committees according to the type of award being applied for and by science topic.
Reviewers read the abstracts of the applications to be considered by their committee and mark their familiarity with each proposal's topic. Reviewers never see a proposal with which they are in conflict, such as a proposal from their institution or from a collaborator, co-author, or personal relationship. Every precaution is taken to avoid apparent or perceived bias.
The American Heart Association DOES NOT permit the use of a large language model (LLM – e.g. ChatGPT) or an artificial intelligence tool to generate and/or edit content in peer review critiques. Uploading of any portion of a research proposal into a large language model (LLM – e.g. ChatGPT) or an artificial intelligence tool to assist in writing a critique of the proposal is explicitly prohibited as it is a violation of the AHA's Peer Reviewer Certification Statement (to include confidentiality, non-disclosure, and conflict of interest).
Based on the rankings of abstracts, the committee chairperson assigns each proposal to three expert reviewers who each prepare a written critique. Each reviewer conducts in-depth reviews for 6-9 proposals. The reviewers summarize proposals' strengths and areas for improvement and generate preliminary scores.
After their initial individual in-depth evaluations, the reviewers come together in their review committee, which might also include lay volunteers, to further discuss and score each proposal's merit and potential impact on the AHA mission.
Why be an AHA Peer Reviewer?
Provides a substantial addition to curricula vitae to be noticed throughout the science community.
Serves as a key point for tenure track and other promotions within most institutions.
Reviewers are exposed to relevant scientific breakthroughs happening daily in their specialties.
Peer review meetings bring about camaraderie and become a springboard for networking to initiate collaborative projects.
Advances interaction with other AHA council members.
Who can be an AHA Peer Reviewer?
Scientists who are actively engaged in research or who have had appropriate research experience
Minimum Assistant Professor career level or equivalent. Those with non-academic appointments who possess significant expertise will be considered.
Nationally recognized competence in one or more fields of biomedical research.
Current or recent independent peer reviewed funding, typically at the national level or equivalent research funding for reviewers employed in industry or government.
Consistent record of peer reviewed publications within the past five years.
AHA professional membership is encouraged.
Unconscious bias training for all AHA peer reviewers is strongly encouraged but not required.
How are Peer Reviewers Selected?
Peer reviewers may be referred by fellow peer reviewers, AHA Research Committee members, and by registering through ProposalCentral. They are also recruited from among AHA awardees and AHA Professional Council members. Each committee chairperson reviews candidates and selects a team based on their specific area of science and the volume of proposals received.
Peer Review Advantage
Dr. Michael Criqui talks about how peer review service can enhance your career success.
2023 AHA Holidays
AHA offices will be closed on the following days.
| | |
| --- | --- |
| Jan. 2 | July 3 & 4 |
| Jan 16 | Sept 4 |
| Mar 31 | Nov 23 & 24 |
| May 29 | Dec 25-29 |