Programming - Scientific Sessions 2020
November 13–17, 2020 | A virtual experience
Ways to experience AHA Scientific Sessions 2020@containerItem.RenderHeadingSizeTag("h2")>
Featured Live Sessions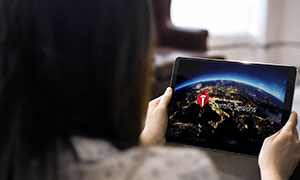 Late-Breaking Science, Special Sessions, and Interactive Zoom Events

Plan Your Featured Live Sessions
On-Demand Programming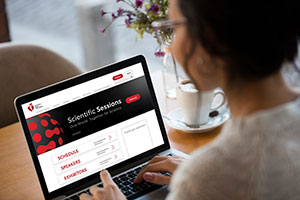 500+ Presentations including
abstracts, posters, and deep dives

See What's On Demand
2020 Programming
Connect. Interact. Learn.
Start planning your #AHA20 experience by checking our Program Agenda and Planner. (You'll need your badge number to log in and save your personalized planner).
#AHA20 Scavenger Hunt
Explore the virtual experience. Get points. Win Prizes.
Get in on the competition!
To get started:
Download the AHA Conferences mobile app.
Hunt for QR Codes embedded throughout the virtual experience. View the full list of QR code placements

Check the leaderboard in the AHA Conferences app to see who is on top!
Throughout the virtual experience you can hunt for QR Codes on:
Featured Session pages
Exhibitor pages
AHA Heart Hub Lounges
Networking Events
2020 Virtual CoPilots
AHA Virtual CoPilots are your guides to the ultimate Scientific Sessions 2020 experience! Follow and connect with rising stars and luminaries in the field of cardiovascular science and medicine throughout the meeting as they share their personal itineraries, session recommendations and will be actively engaging in live chat and on social media.
Below you'll find the Twitter handles of our Virtual CoPilots so you can follow their thoughts right now.
See their itineraries and meet up with them in a session online!
Christine Albert, MD, MPH
@CMAlbertEP
AHA Partner since 2003
Dr. Albert is chair of the Department of Cardiology in the Smidt Heart Institute at Cedars-Sinai in Los Angeles, California.

Follow Dr. Albert for insights on:
Electrophysiology and Arrhythmias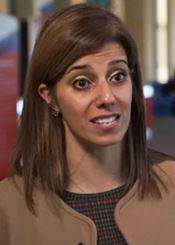 Rasha Al-Lamee, PhD
@Rallamee
Dr. Al-Lamee is an interventional cardiology consultant at Imperial College Healthcare NHS Trust in London, England


Follow Dr. Al-Lamee for her thoughts on:
Interventional Cardiology


Carissa Baker-Smith, MD, FAHA
@CarissaBakerSm1
AHA Partner since 2007
Dr. Baker-Smith is Director of Preventive Cardiology for the Nemours Cardiac Center at Nemours/Alfred I. duPont Hospital for Children in Wilmington, DE.

Follow Dr. Baker-Smith to learn more about:
Congenital Heart Disease and Pediatric Cardiology

Joshua Beckman, MD, FAHA
@JoshuaBeckmanMD
AHA Partner since 1998

Dr. Beckman founded and is director of the Section of Vascular Medicine in the Division of Cardiovascular at Vanderbilt University Medical Center in Nashville, TN.

Follow Dr. Beckman for his thoughts on:
Vascular Disease and Thrombosis

William Borden, MD, FAHA
@wbborden
AHA Partner since 2004
Dr. Borden is an Associate Professor of Medicine and the Director of Healthcare Delivery Transformation at the George Washington University in Washington, DC.

Follow Dr. Borden for his reaction to studies on:
Quality of Care

Lynne T. Braun, PhD, FAHA
@braun_lynne
AHA Partner since 1992
Dr. Braun is a Professor Emerita at Rush University, and Nurse Practicioner at Preventive Cardiology Center and Rush Heart Center for Women in Chicago, IL.

Follow Dr. Braun for her expertise in:
Prevention Health and Wellness

Sherry-Ann Brown, MD, PhD, FACC, FAHA
@DrBrownCares
AHA Partner since 2016
Dr. Brown is a physician scientist with clinical and research emphases in Preventive Cardiology, Cardio-Oncology, and Heart Disease in Women at Froedtert Hospital at the Medical College of Wisconsin in Milwaukee.

Follow Dr. Brown to learn more on:
Cardio-Oncology

Mercedes Carnethon, PhD, FAHA
@Mcarnethon
AHA Partner since 1998
Dr. Carnethon is Vice Chair, Department of Preventive Medicine, as well as professor in epidemiology and pulmonary and critical care at the Feinberg School of Medicine at Northwestern University in Chicago.

Follow Dr. Carnethon for her thoughts on:
Epidemiology, Big Data and Precision Medicine

Alan Daugherty, PhD, DSc, FAHA
@Alan_Daugherty
AHA Partner since 1986
Dr. Daugherty currently is Associate Vice President for Research at the University of Kentucky in Lexington, as well as senior associate Dean for Research, Chair of Physiology, and Director of the Saha Research Center.

Follow Dr. Daugherty for his expertise in:
Arteriosclerosis, Thrombosis, and Vascular Biology

Sarah de Ferranti, MD, FAHA
@s_deferranti
AHA Partner since 2004
Dr. de Ferranti is Chief of the Division of Ambulatory Cardiology at Boston Children's Hospital, and Associate Professor of Pediatrics at Harvard Medical School.

Follow Dr. de Ferranti for:
Congenital Heart Disease and Pediatric Cardiology

Mark Drazner, MD, FAHA
@MarkDrazner
AHA Partner since 1999
Dr. Drazner is Clinical Chief of Cardiology and Medical Director of the LVAD and Cardiac Transplantation Program at UT Southwestern in Dallas, TX.

Follow Dr. Drazner for his thoughts on:
Heart Failure and Cardiomyopathies

Martha Gulati MD, MS, FACC, FASPC, FAHA
@DrMarthaGulati
AHA Partner since 2007
Dr. Gulati is the President-Elect of the American Society for Preventative Cardiology in Arizona.

Follow Dr. Gulati for her updates on:
Acute Coronary Syndromes


Robert A. Harrington, MD, FAHA
@HeartBobH
AHA Partner since 1994
Dr. Harrington is a past president of the AHA, and currently chair of the Department of Medicine and the Arthur L. Bloomfield Professor of Medicine at Stanford University in California.

Follow Dr. Harrington for his interactions on:
Interventional Cardiology


Miguel Leal, MD, FACC, FHRS
@DrMiguelLeal
AHA Partner since 2017
Dr. Leal is the Director of the Electrophysiology and Arrhythmia Service at the University of Wisconsin Hospital and Clinics. He also serves as Program Director for both the Cardiovascular Medicine and Electrophysiology Fellowship Programs at UW.

Follow Dr. Leal for:
Electrophysiology and Arrhythmias

Eldrin Lewis, MD, MPH, FAHA
@EldrinL
AHA Partner since 2004
Dr. Lewis is the chief of the Division of Cardiovascular Medicine and a professor of cardiovascular medicine at Stanford University Medical Center.

Follow Dr. Lewis for his updates on:
Heart Failures and Cardiomyopathies

Erin D. Michos, MD, MHS, FAHA
@ErinMichos
AHA Partner since 2005
Dr. Michos is an Associate Professor of Medicine within the Division of Cardiology at Johns Hopkins School of Medicine, with joint appointment in the Department of Epidemiology at the Johns Hopkins Bloomberg School of Public Health.

Follow Dr. Michos as she explains:
Epidemiology, Big Data and Precision Medicine

Alanna Morris, MD, MSc, FHFSA, FACC, FAHA
@amorrismd
AHA Partner since 2009
Dr. Morris is Assistant Professor of Medicine in the Department of Medicine at Emory University School of Medicine in Atlanta, GA as well as Director of Heart Failure Services at the Atlanta VA Medical Center.

Follow Dr. Morris for details on:
Heart Failures and Cardiomyopathies

Pradeep Natarajan, MD, MMSc
@PNataranjanMD
AHA Partner since 2012
Dr. Natarajan is the Director of Preventive Cardiology at Massachusetts General Hospital, and Assistant Professor of Medicine at Harvard Medical School.

Follow Dr. Natarajan for updates on:
Cardiometabolic Health and Diabetes

Sara K. Pasquali MD, MHS, FAHA
@skpasquali
AHA Partner since 2008
Dr. Pasquali is the Janette Ferrantino Professor of Pediatrics at the University of Michigan C.S. Mott Children's Hospital where she serves as the Associate Director of the Congenital Heart Center for Research and Quality.

Follow Dr. Pasquali for:
Congenital Heart Disease and Pediatric Cardiology

Svati Shah, MD, FAHA
@SvatiShah
AHA Partner since 2004
Dr. Shah is Professor of Medicine, Vice-Chief of Translational Research and Associate Director of the Cardiology Fellowship within the Division of Cardiology, Department of Medicine and is Co-Director of Translational Research within the Duke Molecular Physiology Institute.

Follow Dr. Shah for her expertise in:
Genetics and Genomics

Abdulla Shehab, MD, MMEd, PhD, CCST, FACC, FESC, FRCP, FACP
@heartdr123
Dr. Shehab is President of the Emirates Cardiac Society and a Professor of Medicine at the United Arab Emirates University. He also serves as an interventional cardiologist at two hospitals in the region.

Follow Dr. Shehab for his insight into:
Acute Coronary Syndromes


P. Gabriel Steg, MD, FESC, FACC
@gabrielsteg

Dr. Steg is Chief, Department of Cardiology at Hôpital Bichat, Assistance Publique-Hôpitaux de Paris and Vice President of research on the Board of the Assistance Publique-Hôpitaux de Paris, Paris, France.

Follow Dr. Steg for his thoughts on:
Acute Coronary Syndromes



Jacqueline Tamis-Holland, MD, FAHA
@HollandTamis
AHA Partner since 2006
Dr. Tamis-Holland is Associate Professor of Medicine and an interventional cardiologist at Mount Sinai Morningside and the Icahn School of Medicine.

Follow Dr. Tamis-Holland for the latest in:
Interventional Cardiology

Ethan Weiss, MD
@EthanJWeiss
AHA Partner since 2004
Dr. Weiss is a cardiologist at UCSF in San Francisco, California, whose special interests include preventive cardiology, the genetics of coronary disease, risk assessment for heart conditions and heart disease in the young.

Follow Dr. Weiss for:
Prevention, Health and Wellness

Fernando Stuardo Wyss Quintana, FSIAC, FAHA, FACC
@fernando_wyss
AHA Partner since 2008
Dr. Wyss is President of the Inter-American Society of Cardiology and Past President of the Central American and Caribbean Society of Arterial Hypertension.

Follow Dr. Wyss for:
Cardiology and Hypertension & Nephrology

Clyde Yancy, MD, MSc, FAHA
@NMHheartdoc
AHA Partner since 1992
Dr. Yancy is Vice Dean for Diversity and Inclusion at Northwestern University's Feinberg School of Medicine, as well as Chief of Cardiology in the Department of Medicine. He also is a Professor of Medicine (Cardiology) and Medical Social Sciences.

Follow Dr. Yancy for his thoughts on:
Heart Failure and Cardiomyopathies