Cardiovascular Kidney Metabolic Health: A Presidential Advisory From the AHA
Published: October 09, 2023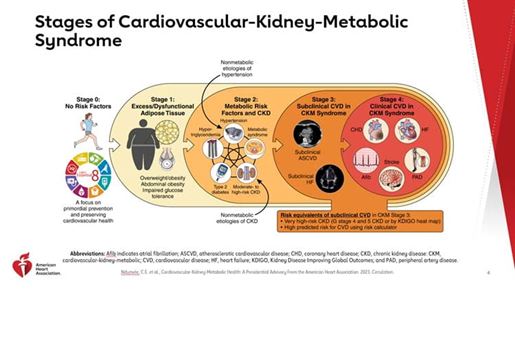 Cardiovascular-kidney-metabolic (CKM) syndrome is a systemic disorder with connections among heart disease, kidney disease, diabetes, and obesity.
This presidential advisory describes the urgency of CKM syndrome, which disproportionately affects disenfranchised populations, suggests consensus on defining and staging the syndrome, offers suggestions for screening, and provides approaches and algorithms for each stage. It also describes the interdisciplinary team approach needed to effectively treat CKM syndrome, emphasizes the importance of addressing social determinants of health, identifies shortcomings in current efforts, and names knowledge gaps.
The advisory is supported by a scientific statement that summarizes evidence related to the science, screening, prevention, and management of CKM syndrome and the related supporting materials below.
Read the full Presidential Advisory in Circulation