Health Equity Research Network on Prevention of Hypertension
Published: March 29, 2021
Background
The Health Equity Research Network (HERN) on the Prevention of Hypertension is part of the multi-pronged approach of the American Heart Association's unprecedented pledge to aggressively address social determinants while working to support and improve the equitable health of all communities.

High blood pressure is one of the leading risk factors of heart disease and stroke and is also a health equity issue. Significant racial and ethnic disparities in both prevalence of hypertension and its management have been well documented. Uncontrolled hypertension is particularly acute in communities of color. As such, this research initiative provides a mechanism to advance the science of prevention of hypertension with a focus on health equity.

Health Equity Research Network on Prevention of Hypertension RFA (pdf)

---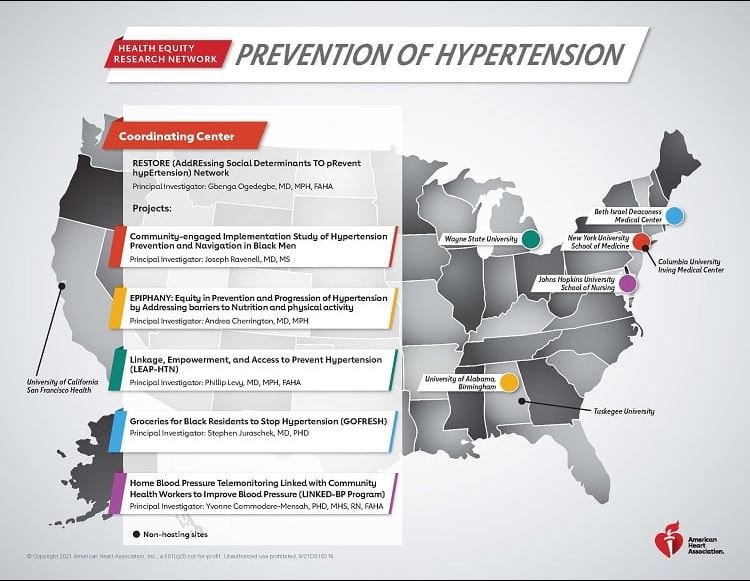 AHA Awards $20 Million for Research to Ensure Health Equity in Preventing Hypertension
Teams from Beth Israel Deaconess Medical Center, Johns Hopkins University School of Nursing, NYU Grossman School of Medicine, the University of Alabama at Birmingham, and Wayne State University received American Heart Association research grants to study high blood pressure prevention in underrepresented populations.

The projects focus on hypertension prevention in underrepresented populations who historically have the highest prevalence of this mostly preventable but potentially deadly condition.
Published Papers Highlights
The RESTORE network overview and five individual study protocol papers were recently published in the American Journal of Hypertension: https://academic.oup.com/ajh/issue/36/5
Presentations at AHA Hypertension Scientific Sessions 2022
RESTORE Health Equity Research Network participants describe the context and theoretical framework of the network and provide a brief overview of the five innovative, evidence-based projects the AHA has funded to improve health equity in Black communities.
RESTORE (AddREssing Social Determinants TO pRevent hypErtension) Network
RESTORE (AddREssing Social Determinants TO pRevent hypErtension) Network is the name of the overarching research program. It will be managed by a multidisciplinary team from NYU Grossman School of Medicine, led by Gbenga Ogedegbe, M.D., M.P. The coordinating center will oversee the establishment of and provide support and resources to the five research projects. The RESTORE Network will be testing multiple approaches to helping people overcome the barriers to health faced by many living in neighborhoods with poor access to health care, healthy foods and places to exercise.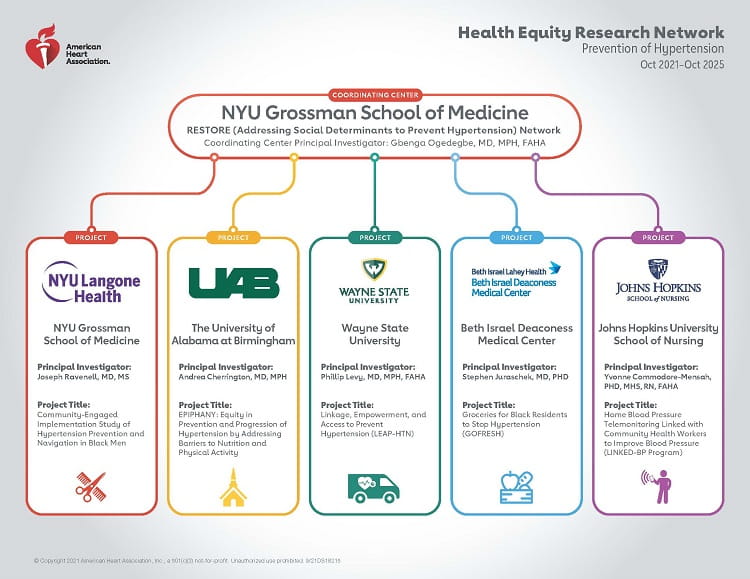 Groceries for Black Residents to Stop Hypertension (GOFRESH) at Beth Israel Deaconess Medical Center in Boston, led by Stephen P. Juraschek, M.D., M.P.H., will test the use of a virtual grocery list with weekly healthy food delivery to the homes of Black adults with high blood pressure in Boston neighborhoods. The groceries will be balanced as part of the healthy eating plan known as the DASH (Dietary Approaches to Stop Hypertension) diet, known to be high in important nutrients and low in sodium. A dietitian will help study participants order the groceries they prefer by computer, as well as providing them with tips and recipes on how to prepare foods in new ways. Over the course of the three-month clinical trial, the researchers will evaluate the impact of grocery delivery on blood pressure and cholesterol.
Home Blood Pressure Telemonitoring Linked with Community Health Workers to Improve Blood Pressure (LINKED-BP) at Johns Hopkins University School of Nursing in Baltimore – Led by Yvonne Commodore-Mensah, this team will implement its LINKED-BP Program to help people who receive care at community health centers. The program will provide some participants with a home blood pressure machine, connections to a community health worker and a mobile health app. Others will be given the blood pressure monitor only. Over the course of 12 months, researchers will evaluate whether people who receive these interventions were able to lower their blood pressure and will compare the outcomes of the higher intervention group to the one with only the home blood pressure monitor.
Community-to-Clinic Implementation Program (CLIP) at NYU Grossman School of Medicine - Led by Joseph Ravenell, M.D., this team will engage 30 barbershops in their study to screen Black men for high blood pressure, give them advice about a healthy lifestyle and link them to health care when needed. The team will expand their initiative, called Community-to-Clinic Linkage Implementation Program (CLIP), in three phases to test various interventions. In the first phase, they will learn about concerns barbershops may have about CLIP and help barbershops put the plan into practice. In the second phase, they will evaluate whether giving the barbershops "expert help" for 12 months helps the shops adopt CLIP more quickly and if the expert help leads to lower blood pressure in customers. In the third phase, they will determine whether the shops still have CLIP in place six months after expert help ends. They will also put CLIP into place in barbershops without expert help and compare the effectiveness of the two different ways to implement the program.
Linkage, Empowerment, and Access to Prevent Hypertension (LEAP-HTN) at Wayne State University in Detroit – Led by Phillip Levy, M.D., M.P.H., this team will deploy mobile health units to provide direct, personalized health care and coaching to people with high blood pressure living in Black neighborhoods of Detroit. Community health workers will help people in the study develop and follow a personalized, flexible health plan. Throughout the year, researchers will regularly compare hypertension and other health factors of people in the program to those of people in the community who also have high blood pressure but who didn't take part in the personalized health plan. They anticipate people receiving care from the community health workers will have lowered or better controlled their blood pressure compared with those who were not.
Equity in Prevention and Progression of Hypertension by Addressing barriers to Nutrition and Physical Activity (EPIPHANY) at the University of Alabama at Birmingham – Led by Andrea Cherrington, M.D., M.P.H., this team will work with 16 churches in rural Alabama to recruit Black adults with elevated but unmedicated high blood pressure to take part in one of two interventions. People from eight of the churches will receive group health education and personal tablets to access online cooking shows and exercise classes. People in the other eight churches will get support from a health coach over the telephone to help set and meet diet and physical activity goals. These participants will also receive the group health education and tablets to access online cooking shows and exercise classes and some of them will be encouraged to sign up as health coaches. The churches will also receive funds to help bring healthy foods and/or physical activity opportunities to their communities.