Heart Disease and Stroke Statistics - 2023 Update
Published: January 25, 2023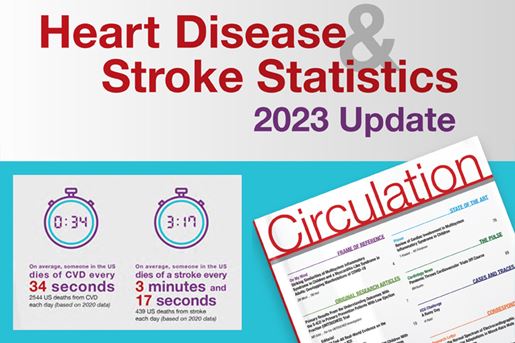 Cardiovascular disease (CVD) remains as the leading cause of death in the United States, accounted for 928,741 deaths in the year 2020.
Between 2018 and 2019, direct and indirect costs of total CVD were $407.3 billion ($251.4 billion in direct costs and $155.9 billion in lost productivity/mortality).
In 2020 in the United States, coronary heart disease (CHD) was the leading cause (41.2%) of deaths attributable to CVD in the United States, followed by stroke (17.3%), other CVD (16.8%), high blood pressure (12.9%), heart failure (9.2%), diseases of the arteries (2.6%).
Heart Disease and Stroke Statistics 2023 Update
Writing Group Chair Connie Tsao, MD, MPH, FAHA and Vice Chair Seth Martin, MD, MHS, FAHA summarize what's new and discuss a few key highlights from this year's update.
New!

2023 Heart & Stroke Statistical Update Toolkit



The 2023 Heart Disease and Stroke Statistical Update Toolkit represents a critical resource for health care professionals, health care administrators, researchers, health advocates, and others seeking the best available data on these factors and conditions. Cardiovascular disease produces immense health and economic burdens in the United States and globally. The toolkit includes At-a-Glance and Fact Sheets (in 7 language translations), and decks containing What is New and Updated in 2023 and Select Charts from the 2023 Update.

Access, Free for AHA members, $9.99 for others.