End Nicotine Addiction in Children and Teens (ENACT)
Background
The rapid pace of e-cigarette products entering the market without provision of essential safety information requires an equally rapid, ambitious, comprehensive response on the part of the research/scientific community. The AHA seeks to accelerate desperately needed answers about the health effects of e-cigarettes and other novel nicotine delivery devices (ENNDs) and how to prevent and/or reverse the developing epidemic of nicotine addiction, among children and youth (defined as 15-24 years of age). To that end, the AHA is committing up to $20 million to fund bold, ground-breaking research projects focused on the health impacts of nicotine and nicotine delivery products in children and youth.
ENACT Grant Awardees
---
Suchitra Krishnan-Sarin, PhD
Professor of Psychiatry
Yale University
Understanding and Treating E-cigarette Use Among Youth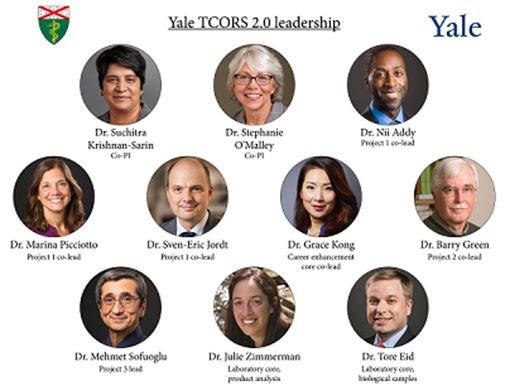 The Yale team is led by Suchitra Krishnan-Sarin, PhD, Professor of Psychiatry, an expert in youth tobacco use behaviors who co-leads the Yale Tobacco Center of Regulatory Sciences. Yale scientists will develop and test several youth-based intervention programs and will conduct behavioral research to learn more about the effects of youth e-cigarette use and withdrawal. They plan to develop a high school-based intervention to educate youth about e-cigarettes, prevent initiation of vaping, promote quitting among those who already use e-cigarettes and change attitudes and perceptions toward e-cigarettes school-wide. They will also develop a cessation program that will use smartphone-based contingency management for nicotine abstinence in combination with individualized, cognitive behavioral therapy. Further, they plan to develop and pilot a computerized cognitive behavioral therapy intervention for youth e-cigarette users. Finally, the team will develop a measure of e-cigarette withdrawal in youth and assess the relationship between withdrawal, dependence, treatment outcomes and e-cigarette characteristics such as flavors and devices.
"We are enthusiastic about this investment in the future of our children," Krishnan-Sarin said. "We hope that the work conducted by our group and others will have a significant impact on reducing youth e-cigarette use."

Other members of the Yale research team include Grace Kong, PhD; Meghan Morean, PhD; Kathleen Garrison, PhD; Kathleen Carroll, PhD; Dana Cavallo, PhD; Krysten Bold, PhD; Stephanie O'Malley, PhD

Yale Psychiatry Research Team Awarded Grant to Develop Interventions For Youth E-Cigarette Use Behaviors
---
Peter Mohler, PhD
Vice Dean for Research, Ohio State College of Medicine
Director, Dorothy M. Davis Heart and Lung Research Institute
The Ohio State University

VERIFY: Vaping's End through Research and Innovation For Youth
A Comprehensive Approach to Understanding and Ending Youth E-cigarette Addiction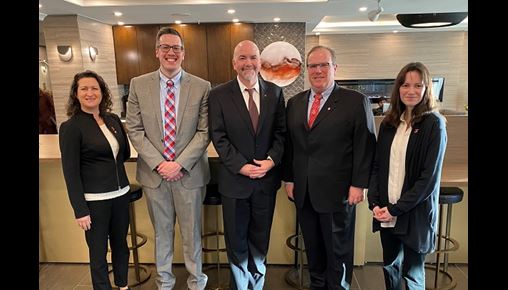 The team is comprised of researchers from the Center for Tobacco Research at The Ohio State University Comprehensive Cancer Center – Arthur G. James Cancer Hospital and Richard J. Solove Research Institute (OSUCCC—James), including Theodore Wagener, PhD, Loren Wold, PhD, Liz Klein, PhD, MPH, and Megan Roberts, PhD.

The group will join colleagues with the colleges of Medicine, Nursing, Public Health and Engineering to work together to provide answers about the short- and long-term health effects of e-cigarettes, including their impact on the brain, lungs, and heart; the most effective regulations to reduce the appeal and addictiveness of e-cigarettes for youth; and the best methods to help youth addicted to e-cigarettes quit. Team VERIFY: Vaping's End through Research and Innovation For Youth will recruit youth for a year-long study to look at the relationship between nicotine form, concentration and flavorings on youth e-cig use, addiction, neurocognitive outcomes, and pulmonary health compared to healthy peers. They will also study the influence of nicotine form, concentration and flavor on youth puffing behavior, nicotine delivery, abuse liability, toxicant exposure, and acute cardiovascular and pulmonary effects; and they will develop and test a multi-point, scalable vaping cessation program to include quit-line-delivered phone counseling, text-based cessation, nicotine replacement therapy and online cessation support.

Ohio State Receives $5.5 Million Grant to Study Health Impact of Youth Vaping
---
Naomi M. Hamburg, MD, MS, FACC
Joseph A. Vita, MD Professor
Boston University Medical Campus

Rapidly Advancing Discovery to Arrest the Outbreak of Youth Vaping (VAPERACE)
This team will establish the Rapidly Advancing Discovery to Arrest the Outbreak of Youth Vaping Center and will include four intersecting projects at Boston University, Johns Hopkins University, Stanford University and the University of Louisville. These projects include: basic research using human induced pluripotent stem cell samples to test the toxicity of the components of e-cigarettes; mobile health technology to measure the physiological cardiovascular impacts of e-cigarettes on youth in real-world settings and a virtual reality and text messaging delivered e-cigarette cessation program for youth developed by combining social media methods with focus groups.
Boston University scientist to lead team investigating effects of vaping
Tobacco Endgame
The American Heart Association is empowering teens and young adults to make a difference in the fight against vaping and other tobacco use. Teens across the country are sharing their stories and making a difference in their communities. The Tobacco Endgame movement is a campaign of the American Heart Association's grassroots advocacy network, called You're the Cure. Hundreds of thousands of advocates come together in You're the Cure to create healthier communities through public policy change.

Learn More About You're The Cure