Young Hearts Message from the Chair
Anitha S. John, MD, PhD, FAHA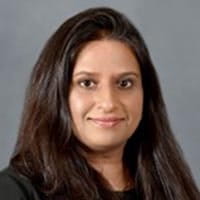 Like many organizations, the AHA Council on Lifelong Congenital Heart Disease and Heart Health in the Young (Young Hearts) has undergone a series of changes over the past two years. While 2020 presented us with unprecedented challenges, the COVID-19 pandemic has brought clarity to many on their long-term goals. In addition, the importance of equity, diversity, and inclusion as priorities in combating health disparities was made abundantly clear through the many tragic events we have witnessed.
Our Council leadership has recognized the vital role AHA Scientific Council Membership can play in the careers of pediatric and adult congenital cardiologists. With the changing demographics of our field, we also recognize that our council needs to adapt to provide the support that our members need to promote the heart health of infants, children, adolescents, and adults with congenital and acquired heart disease.
Through active engagement with council membership, we have embarked on a reorganization process to improve transparency, increase diversity, and promote a diverse cardiovascular research portfolio. Our council remains focused on serving as the scientific home for all of our members, providing resources for career development at all stages and career paths. The AHA continues to offer various grant mechanisms, abstract presentations, and networking opportunities. We hope to increase resources available and opportunities for grant preparation, scientific meetings, and research collaboration.
On behalf of the Council on Lifelong Congenital Heart Disease and Heart Health in the Young, I would like to encourage all new and existing members to work with us as we continue to grow and improve. Our mission remains to serve our community to improve the lives of patients with congenital and acquired heart disease across the lifespan. Through the AHA, we believe Young Hearts Council members can play an essential role in shaping public policy and clinical standards through innovative research and continued advocacy.
As chair, I remain committed to promoting transparency, diversity, and inclusion within our council. I hope to work with all of you to develop new programming, initiatives, and partnerships with other councils to further the objectives of Young Hearts and the AHA.
Please don't hesitate to reach out to me or other members of the Young Hearts Leadership committee if you would like to learn about ways to become more involved. I look forward to working with all members of our community to ultimately improve long-term outcomes for our patients.
Sincerely,
Anitha S. John, MD, PhD, FAHA
Chair, Council on Lifelong Congenital Heart Disease and Heart Health in the Young (Young Hearts)
Are you a FAHA?
Become a Fellow of the American Heart Association. Get details on eligibility, criteria, benefits and how to apply.
---
AHA Professional Members are Difference Makers