CVSN Message from the Chair
Terrie Black DNP, MBA, CRRN, FAHA, FAAN
Welcome to the website of the Council on Cardiovascular and Stroke Nursing (CVSN). It is an honor and privilege to serve as Chair of the Council on Cardiovascular and Stroke Nursing (CVSN). I am looking forward to working with all of you to build upon what previous leaders have accomplished.
Through the valued expertise of our members we are able to accelerate the discovery, interpretation, and application of scientific knowledge to enhance cardiovascular health and treat cardiovascular diseases and stroke. The CVSN Council plays an essential role in the overall mission of AHA/ASA through helping to develop scientific statements and advisories, determining the nature and scope of professional education activities, providing scientific expertise and conducting research as well as promoting translation/application of new knowledge and evidence-base practices in clinical settings. The mission of CVSN is to:
"relentlessly pursue optimal health outcomes for all through innovative nursing science and practice, lifelong learning, and a culture of diversity, equity, and inclusion in health care"
Are you a nurse scientist doing research? The CVSN Council is for you!
Are you an early career nurse looking to be mentored? The CVSN Council is for you!
Are you a CVSN nurse looking for funding for your research? The CVSN Council is for you!
Are you a stroke coordinator looking to network with others in similar roles to share ideas? The CVSN Council is for you!
Are you a staff nurse looking to connect with others regarding best practices in CVSN nursing care? The CVSN Council is for you!
I invite you to explore our website for the numerous opportunities that exist through our Council.
Scientific Sessions/CVSN Clinical Symposium – offers a global exchange for cardiovascular scientists and clinicians and a learning venue where cutting-edge science and clinical practices are discussed and debated. (Abstracts usually due in June; Sessions usually due in November).
International Stroke Conference (ISC) – State-of-the-Science Stroke Nursing Symposium—premier meeting dedicated to the science and treatment of cerebrovascular disease (Abstracts usually due in August; Conference usually in February).
Become a Fellow of the American Heart Association (FAHA) – recognition for outstanding leadership and service to cardiovascular and stroke nursing and to the AHA.
Receive early career mentoring – The Early Career Development program encourages and assists promising students, post-doctoral fellows and junior faculty as they seek to establish successful careers in science.
Opportunity for an Early Stage Investigator Grant Proposal Review at AHA Scientific Sessions—opportunity for Early Stage investigators to present their ideas for possible grant proposal submission and receive constructive feedback from senior investigators in a supportive atmosphere of collaboration and networking (Applications due in June).
AHA research funding opportunities are available to basic, clinical and population scientists.
CEs for educational programs such as administering the NIH Stroke Scale.
Nursing educational tools such as a guide to writing research abstracts.
Become an advocate – You're the Cure—a nationwide network of people dedicated to finding cures for heart disease and stroke. Members advocate with the American Heart Association/American Stroke Association for more research and prevention funding as well as other public policies that lead to cures for heart disease and stroke.
Apply for travel grants to attend Scientific Sessions and/or ISC, i.e., the CVSN Early Career Research Travel Awards; the CVSN and Stroke Travel Stipend; CVSN Minority Travel Grants; Cardiovascular and Stroke Nursing Early Career Travel Grants (Apply April/May through early August). Find more information about travel grants.
Apply for prestigious career-advancing awards that recognize council member achievements. CVSN honors those who excel at science/research, leadership and/or clinical practice through the following awards or lectures: Kathleen A. Dracup Lecturer in Exemplary Early Career Mentoring, Katharine A. Lembright, Martha N. Hill New Investigator, Arteriosclerosis/Heart Failure Research, Marie J. Cowan Promising Young Investigator, Best Abstract, Clinical Article of the Year, Research Article of the Year, Stroke Article of the Year, Mathy Mezey Excellence in Aging Award and Excellence in Clinical Practice Award. (Applications due April to mid-June).
Complete a science volunteer form.
The CVSN Council is in a strong position to highlight the importance of nursing science and practice in the AHA and for the public and patients it serves. I invite you to become actively involved in CVSN's committees, activities, and scientific agenda this year. We have a lot to accomplish, but with the work of all our committees and you, I know we can do it. I invite your participation in our important work together.
I welcome your input. Please do not hesitate to reach out to me.
Sincerely,
Terrie Black DNP, MBA, CRRN, FAHA, FAAN
Chair, Council on Cardiovascular and Stroke Nursing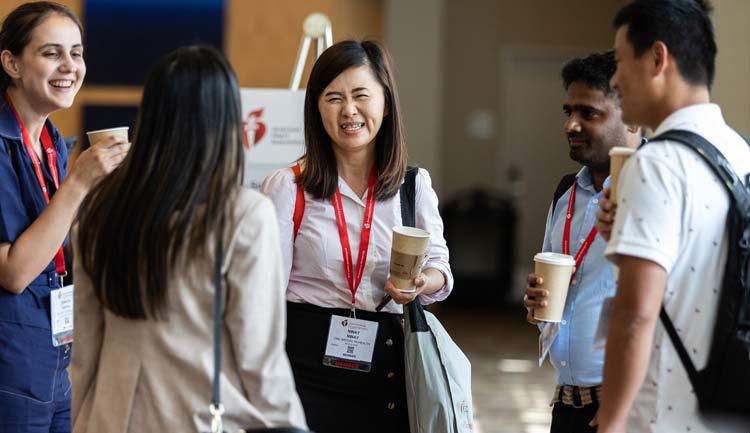 Hypertension Scientific Sessions
September 7-10, 2023
Sheraton Boston Hotel | Boston, Massachusetts
---
February 8–10, 2023
Dallas, Texas + Virtual
Abstract Submission open through Aug. 23, 2022
---
AHA Professional Members are Difference Makers