Carlos Jose Rodriguez, MD, MPH, FAHA, FACC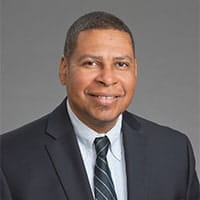 Dr. Rodriguez is a board certified clinical cardiologist, Professor of Medicine and Epidemiology at Albert Einstein College of Medicine. He was born in the Dominican Republic and raised in Washington Heights, Manhattan. He graduated from the University of Massachusetts at Amherst, and subsequently obtained both his M.D. and M.P.H. degrees concurrently from Columbia University College of Physicians and Surgeons and School of Public Health. He then completed his three-year internal medicine residency and then completed a four-year fellowship in Cardiovascular Diseases and Advanced Echocardiography all at Columbia University Medical Center.
Dr. Rodriguez joined the faculty at Columbia University's College of Physicians and Surgeons in 2003 and held a joint appointment at Columbia University's Mailman School of Public Health and in the Division of Cardiology at Columbia University Medical Center. He was the first Dominican from the surrounding inner-city community of Washington Heights to become a full-time faculty member of the Division of Cardiology. A prolific researcher, Dr. Rodriguez has published over 260 peer-reviewed manuscripts, book chapters and abstracts. His research focuses on: cardiovascular epidemiology, cardiovascular health disparities, minority cardiovascular health, hypertensive heart disease and heart failure. His research has been published in a variety of journals including Circulation, the Journal of the American College of Cardiology, the American Journal of Cardiology, the American Journal of Medicine, Hypertension, and Stroke. Dr. Rodriguez has been the recipient of the American Heart Association Clinically Applied Research Grant, the Association of Black Cardiologists Hawthorne - Searle Young Investigator Award, and a Career Development Award funded by the National Heart Lung and Blood Institute. He is a Robert Wood Johnson Foundation Scholar, a past recipient of the Harold Amos Medical Faculty Development Award and recipient of an Institutional Mid-Career Research Award.
From 1989 to 1996, Dr. Rodriguez served in the United States National Guard as a combat medic. In 2007, he received the Columbia University Medical Center Diversity Faculty Research Award. He has mentored dozens of postdoctoral trainees, medical students, medical residents, cardiology fellows and early career faculty, the majority of whom are from underrepresented race-ethnic groups. He was elected as Senior Mentor for the National Hispanic Health Foundation in 2017. In 2021, Dr. Rodriguez was an honoree at the National Dominican Day Parade in New York City.
Dr. Rodriguez joined the Albert Einstein College of Medicine on April 2019, where he is currently Professor of Medicine, Epidemiology and Population Health (with tenure) and the principal investigator of the Echo-SOL and Echo-SOL 2, national multi-center studies of cardiac structure and function in Hispanic/Latinos across the United States. His Echo-SOL R01 grant application was awarded a perfect score from the National Institutes of Health (NIH) in 2010, a rare accomplishment. At Albert Einstein College of Medicine, Dr. Rodriguez serves as Vice Chair of Academic Affairs for Cardiology, Director of Cardiovascular Research and Director of Cardiovascular Epidemiology.
Dr. Rodriguez is active in various organizations, including as a fellow of the American Heart Association, where he has served as a member of the National Research Committee, the Mid-Atlantic Affiliate Board, the Social Determinants of Health and Health Equity Task Force and as past chair of the Genomics, Translational Outcomes & Observational Epidemiology Peer Review Committee. He is Chair, American Heart Association National Hispanic Latino Cardiovascular Alliance and Vice-Chair for Diversity, Equity and Inclusion for the NIH Cardiothoracic Surgical Trials Network. He also serves as a fellow of the American College of Cardiology. In addition to all of the above, Dr. Rodriguez continues to see patients from the community and perform cardiovascular procedures on a weekly basis in New York, where he lives with his wife and two children.