2023–2024 NHLCC Scholar: Paula Nieto Morales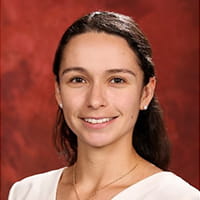 Paula Nieto Morales
PhD Candidate, Department of Biomedical Sciences
Florida State University
Paula Nieto Morales was born and raised in Villavicencio, Colombia. At the age of 16, Paula earned an athletic and academic scholarship to fund her college education in the United States. Her interest in science led her to pursue a bachelor's degree in chemistry and biology.
After completing her degrees in 2018, Paula moved to Atlanta, Georgia to work at the CDC as a contractor in the Division of Preparedness and Emerging Infections (DPEI). In 2020, she joined the CDC COVID-19 Global Response as a Laboratory Scientist deployed to the Oklahoma State Department of Health to support the testing capabilities in the virology division.
By the end of deployment, Paula knew she was ready to pursue a long-term career in research and medicine and in 2021 started her PhD in Biomedical Sciences in the College of Medicine at Florida State University. Paula currently studies diseases of the cardiac muscle referred to as cardiomyopathies using genetically engineered mouse models.
Alongside her studies, Paula volunteers at a women's pregnancy center as an ultrasound technician to confirm fetal heartbeat and intrauterine pregnancies serving underserved populations plus serves as an active volunteer for a non-profit organization called Who We Play For, providing free electrocardiogram heart screenings to sixth grade students in Tallahassee, Florida. Which seeks eliminate preventable sudden cardiac death in young people.
After completing her PhD, Paula will be attending medical school to achieve her dream of becoming a pediatric cardiologist performing bench-to-bedside research and patient care, and helping children diagnosed with heart disease. Paula believes in 'dreaming big' and never forgetting where one comes from.
As an NHLCC Scholar, Paula is honored to be working with her mentor and meeting other young professionals.