2023–2024 NHLCC Scholar: Manuel Cintron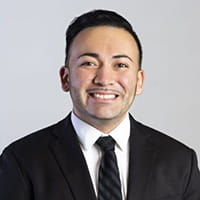 Manuel Cintron
MD Student
University of Illinois College of Medicine
Manuel Cintron is a fourth-year medical student at the University of Illinois College of Medicine, who proudly calls Chicago, Illinois, his hometown. As a first-generation medical student, his journey is defined by his unwavering commitment to his community and a relentless drive for positive change.
His path took a pivotal turn when he served as a NIH Medical Research Scholar in The Social Determinants of Obesity and Cardiovascular Risk Laboratory led by Dr. Tiffany Powell-Wiley, gaining invaluable experience and insight into the world of research with a special focus on its potential to benefit underserved communities. Notably, Manuel's impact extends beyond the research realm. His published work zeroes in on language-access and cardiovascular disease disparities, which disproportionately affect minority communities. This resolute dedication underscores his mission to advance healthcare equity for all.
In addition to his academic endeavors, Manuel has been a devoted delegate for the Latino Medical Student Association, channeling his energy into policy advocacy. He believes that change often commences with policy advocacy. Manuel's unique approach to both his studies and advocacy work is a blend of quiet strength and deep-rooted community ties. Every achievement is not only a personal success but a testament to the aspirations of his family and the community that has shaped him. His commitment to serving the Hispanic community reflects his desire to uplift those who have been historically underserved.
Manuel's multifaceted journey underscores his dedication to creating a more inclusive and compassionate healthcare system. His research interests span diverse fields, from epidemiologic methods and geographic information systems to epigenetics and community-based interventions. His ultimate objective is to ensure healthcare accessibility, regardless of one's background.
Outside of medicine, he enjoys spending time with his family, traveling and working on home improvement projects—having previously worked as a licensed mason.