2023–2024 NHLCC Scholar: Donald Rodriguez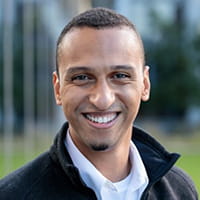 Donald Rodriguez
MD Student
University of Chicago Pritzker School of Medicine
Donald Rodriguez, PhD, is an eighth-year student in the Medical Scientist Training Program (MSTP) at the University of Chicago Pritzker School of Medicine. A proud Dominican American from central Massachusetts, Donald decided to pursue medicine out of a desire to empower families like his with the knowledge they need to advocate for better health. As an undergraduate student at Yale, Donald's early exposure to the laboratory showed him the power of basic and translational research in generating that same knowledge patients and physicians can use to obtain improved health outcomes. These dual interests drove Donald to join the MD/PhD program at UChicago, an institution that strives to harness its research prowess and resources for the benefit of its neighboring — and historically marginalized — communities.
During his training, Donald has served as National President of the Latino Medical Student Association (LMSA), which works to bolster underrepresented students in medicine as they enter and progress within the physician workforce. Through his graduate studies in Immunology, Donald worked to characterize the factors that affect the autoimmune potential of CD4+ T cells, which play a key role in coordinating immune responses. Insights from his PhD thesis have wide-reaching implications for our understanding of autoimmune diseases, which continue to rise in prevalence across almost all demographics in the US.
Now in his clinical years of medical school, Donald has appreciated how Cardiology affords physician-scientists with ample opportunities to engage in research, teaching, and meaningful conversations with patients and their families about their care. While contemplating what the future holds for him, Donald continues to stay sane with a little help from his family, friends, intramural sports, and the Chicago restaurant scene.