2023 2024 NHLCC Scholar Camille Jaime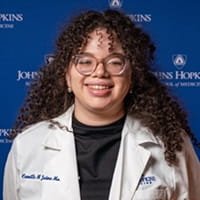 Camille Jaime
PhD Candidate
John Hopkins School of Medicine
Camille Jaime was born and raised in Manati, Puerto Rico. As a young girl, she was diagnosed with type 1 diabetes and was informed how Puerto Rican youth have a vastly higher T1D prevalence. This greatly sparked her interest in autoimmunity research. After immigrating to the US mainland, she graduated in 2020 with a BS in Microbiology from the University of Iowa.
During her undergraduate studies, she worked in the lab of Dr. Ashutosh Mangalam, investigating the effect of genetics and diet on the gut microbiota to impact the onset of multiple sclerosis. Her identity as an immigrant in the US helped her connect with others and matured her understanding of research as a community that can be enhanced by including all identities and conditions.
Currently, Camille is a PhD candidate for the Immunology program at Johns Hopkins, under the tutelage of Dr. Daniela Čiháková. Her thesis project in the Čiháková lab is to understand the role of immune checkpoint inhibitors in disrupting cardiac immune homeostasis. Towards this objective, she is a co-author in various lab publications and has been awarded an AHA diversity research grant.
In addition to autoimmunity, Camille practices her passion for diverse representation in STEM as a co-chief graduate student and Diversity, Equity, and Inclusion (DEI) initiative leader for her program. As an NHLCC Scholar, Camille hopes to learn more about becoming an independent researcher who fosters diversity as a colleague, mentor, and leader.