2023–2024 NHLCC Scholar: Ana Vargas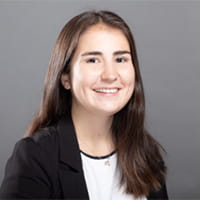 Ana Vargas
PhD Candidate
Northeastern University
Currently, Ana is a fourth-year PhD candidate at Northeastern University in Boston, Massachusetts. Ana was born in Tegucigalpa, Honduras, and has a remarkable journey as an international student. From an early age, she was always curious and had a deep-seated passion for helping others. This passion was ignited when, at a young age, she tragically lost a close friend to a heart attack, inspiring her to explore the intricacies of the human heart.
At just 17 years old, Ana moved to the United States, where she pursued her undergraduate degree in bioengineering with a focus on biomechanics at Lehigh University. Her enthusiasm for this field shone brightly from the outset, driving her to seek further knowledge and experience by pursuing a doctorate degree in bioengineering.
Her research is dedicated to women's health, with a specific focus on understanding how pregnancy impacts the cardiovascular system. Ana aspires to build a lasting career in this field, with the goal of contributing to the betterment of women's health through her research.