AHA FIT Newsletter
Access and Advocacy - Spring 2022 issue
Access and Advocacy: A Profile of Doctors with Heart A conversation with Dr. Nasrien Ibrahim
Zakaria Almuwaqqat, MD
Cardiology Fellow, PGY-6
Division of Cardiology, Emory School of Medicine
---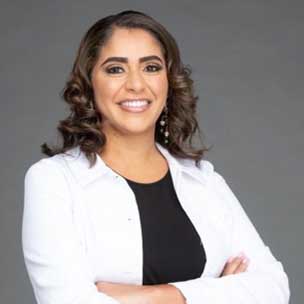 Dr. Nasrien Ibrahim
Heart Failure and Transplant Cardiologist
Inova Heart and Vascular Institute
Associate Editor, Journal of the American College of Cardiology: Heart Failure
Incoming Commonwealth Fund Fellow in Minority Health Policy, Harvard University '22-'23
During an interview with Zakaria Almuwaqqat, a Fellow in Training (FIT) at Emory University, Nasrien Ibrahim, FindMD, MHS, Director of Heart Failure Clinical Research at Inova Heart and Vascular Institute and the Equity in Heart Transplant Project, discusses equity and access to healthcare.
1. Congratulations on an extremely impactful career! Can you describe your journey in becoming a nationally recognized cardiologist leader in health equity and what your specific healthcare policy interests are?
Thank you so much! You are too kind. I honestly feel like I am just getting started. I finally feel comfortable pursuing my purpose. I went into medicine, like most other people, to help people but I wanted to help the most historically excluded people. It starts with seeing one patient that the system has failed and then unfortunately, you keep seeing this again and again. The solutions are often so simple, but so out of reach for the patients who need them most. My main clinical and academic interest is improving access to heart transplant in historically excluded and systemically oppressed patient populations. With transplant I like to think of the evaluation as having 3 main buckets- the medical piece, that is, is transplant medically indicated or might the patient be too sick to transplant; the financial piece, meaning, does the patient have health insurance and if they do have insurance are their deductibles affordable; finally, the social piece which is not clearly defined and has the biggest gray zones with regards to eligibility. By changing policy, we can make bigger impact. Some of the areas I am interested in include insurance expansion while ensuring Medicaid in all states cover heart transplant and durable left ventricular assist devices; cost control so that patients are never turned down for transplant because deductibles are unaffordable (antivirals needed when we use hepatitis C donors are notorious for this); and finally, creating mandates to ensure transplant centers are transplanting the demographic that actually represents the demographic of the region they are in. I am launching my nonprofit later this year that will provide financial assistance for patients who would otherwise qualify for transplant- The Equity in Heart Transplant Project™. As you know, patient populations with the worst heart failure outcomes have the poorest access to transplant. Much work remains to be done.
2. As a clinician and cardiologist, could you share how you cultivated this interest and decided to work and advocate on a policy level to help racial and ethnic minorities?
As I mentioned earlier, seeing patients mistreated repeatedly by a system designed to fail them has been fuel for me to pursue this work. I am half Egyptian (mom) and half Sudanese (dad). I remember taking care of a patient who looked just like my dad, except English was not his first language and he was not a physician, who sat in an emergency department for several hours with an acute myocardial infarction with the delay leading to his death and knowing if my dad did not speak English and was not a physician, that would have been him. I have many stories that have haunted me. Young patients denied transplant based on finances and archaic social "requirements". These stories have fueled my journey. A patient once told me, "This is your ministry" and I truly believe it.
3. The world has experienced a pandemic that changed our lives in many aspects, could you share how and where are the impacts have been disproportional for historically excluded and systemically oppressed communities?
They have suffered in every phase of the pandemic from worse outcomes to being excluded when we started using telehealth more, to poorest access to vaccines, and now poorest access to treatments. These inequities were always there, the system has been designed to uphold them, and we must work to dismantle them.
4. You were recently invited to the White House for a discussion and contribution to improve access to care, congratulations! Would you take us through some of the ideas you thought of to improve access for historically excluded and systemically oppressed communities?
Well, I can't speak about anything we discuss in our monthly roundtable series, but what I learned is that our efforts to dismantle disparities must be united as well as intentional. One excellent example of a transplant access program is the African American Transplant Access Program founded by my friend and the first Black female transplant surgeon in the state of Illinois, Dr. Dinee C. Simpson, breaks down barriers to transplant care in the African American community through access to education, resources, and world-class transplants at Northwestern. A program I hope to emulate in heart transplant.
5. Congratulations on your acceptance into the prestigious Commonwealth Fund Fellowship in Minority Health, what advice do you have for FITs who wants to pursue interests in the field of advocacy for health equity?
Thank you so much! I am ecstatic about this next phase of my career. I say, look around you and figure out what needs to be done better. There are inequities in every branch of from classrooms to clinics, so many opportunities for people to have an impact. Find what you love and look for what can be improved in it for the most disenfranchised patients, plan for how you are going to fix it, and do it. Find mentors, sponsor, and friends who will root for you on your mission to dismantle disparities. I always say, if everything you are doing is for the patients our system has failed, the patients who have been historically excluded, the patients who have been systemically oppressed, the most vulnerable among us, then no one can fault you.