2022 Distinguished Scientist Bruce Ovbiagele, MD MSc, MAS, MBA, MLS, FAHA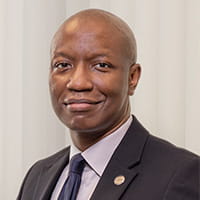 Bruce Ovbiagele, MD MSc, MAS, MBA, MLS, FAHA
Professor of Neurology and Associate Dean
The University of California, San Francisco
Chief of Staff
San Francisco Veterans Affairs Health Care System
San Francisco, CA 94121
Bruce Ovbiagele, MD MSc MAS, MBA, MLS, FAHA is a vascular neurologist, clinical epidemiologist, and health equity scholar. He is currently Professor of Neurology and Associate Dean at the University of California, San Francisco as well as Chief of Staff at the San Francisco Veterans Affairs Health Care System. Prior to these roles, he served for six years as Professor and Chairman of Neurology at the Medical University of South Carolina. He maintains adjunct professorships at universities in Africa, Asia, and South America.
Dr. Ovbiagele's research studies have greatly advanced knowledge of stroke epidemiology, mechanisms, and management among disparate populations in the United States and Africa, and his research training programs are diversifying the academic neurology workforces in both regions. He served as the inaugural national medical spokesperson for the "Power-to-End-Stroke" campaign, which focused on raising awareness about the disproportionate burden of stroke experienced by African Americans, lead author of the AHA policy paper "Forecasting the Future of Stroke in the United States", which projected higher future stroke rates among African Americans and Hispanics, and Vice Chair of the 2014 AHA Secondary Stroke Prevention Writing Panel.
His work has been recognized with several awards and honors including the Mridha Humanitarian Award from the American Brain Foundation; Pessin Lectureship Award and Wartenberg Lectureship Award from the American Academy of Neurology; Feinberg Lectureship Award from the American Stroke Association; Penn Lectureship Award from the American Neurological Association; Meritorious Achievement Award from the National Medical Association; Haddock International Impact Award and Stroke Council Award from the American Heart Association. He was Chair of the AHA International Stroke Conference (2016-2018). He has published >580 peer-reviewed articles with >105,000 citations and edited five textbooks. Dr. Ovbiagele is an elected fellow of the World Stroke Organization, American Academy of Neurology, American Heart Association, European Stroke Organization, Royal College of Physicians, Royal Society of Public Health, and African Academy of Sciences; and an elected member of the National Academy of Medicine.