2022 GPM and EPI Mid Career Research Award Lecturer - Kathryn M. Rexrode, MD, MPH, FAHA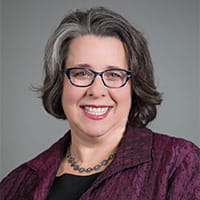 Kathryn M. Rexrode, MD, MPH, FAHA
Brigham and Women's Hospital
Boston, MA
Dr. Kathryn Rexrode is the Chief of the Division of Women's Health in the Department of Medicine at Brigham and Women's Hospital and a Professor of Medicine at Harvard Medical School. Additionally, she is the Director for the Office for Women's Careers in the Center for Center for Diversity and lnclusion at Brigham and Women's Hospital (BWH).
Dr. Rexrode graduated with a medical degree from Case Western Reserve School of Medicine and completed her primary care internal medicine residency at BWH. After residency, she completed an epidemiology research fellowship at BWH and a Masters of Public Health at the Harvard T.H. Chan School of Public Health in 1996. Since joining the faculty at BWH in 1996, she has held leadership positions in research, education and faculty development.
Dr. Rexrode has broad and deep research experience in women's health, with a particular research interest in the role of obesity and hormonal factors for cardiovascular disease in women, as well as the understanding of sex differences. Dr. Rexrode leads several grants from the NHLBI and NCI, has been continuously NIH-funded since 2002, and has published more than 250 research publications. Her current research focuses on metabolomics and the risk of heart disease and stroke in women. She is a mentor on several career development grants for junior faculty and has been recognized with the A. Clifford Barger Excellence in Mentoring Award from Harvard Medical School and the BWH Pillar Award for Senior Faculty Mentoring.