2021 Stroke Council Award Lecturer – Bruce Ovbiagele, MD, MSc, MAS, MBA, MLS, FAHA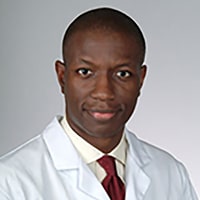 Bruce Ovbiagele, MD, MSc, MAS, MBA, MLS, FAHA
University of California
San Francisco, CA
Bruce Ovbiagele is a clinical epidemiologist and health equity scholar, with a focus on reducing the burden of stroke. He is Professor of Neurology and Associate Dean at the University of California, San Francisco, as well as Chief of Staff at the San Francisco Veterans Affairs Health Care System.
Dr. Ovbiagele leads several United States National Institutes of Health sponsored programs focused on improving stroke outcomes among vulnerable and underserved populations, as well as mentoring early career scholars. So far, his various research activities have contributed substantially to the scientific knowledge base with >550 peer review publications and also edited 5 textbooks.
Dr. Ovbiagele's work has been recognized with several awards and honors including the American Academy of Neurology Pessin Research Leadership Award, International Stroke Conference Feinberg Excellence in Stroke Award, American Heart Association Haddock International Impact Award, C. Miller Fisher Visiting Professorship in Neurology at Massachusetts General Hospital, and Roxanna Todd Hodges Visiting Professorship at the University of Southern California.
He was Chair of the International Stroke Conference (2016-2018) and is founding chair of the inaugural African Stroke Organization Conference (2021). He served as Founding Editor-in-Chief of the World federation of Neurology open access journal (2014-2019), and is currently an Associate Editor for the journal, Stroke, which is the leading journal in the field.
Dr. Ovbiagele is an elected fellow of the World Stroke Organization, Aspen Institute Global Leadership Network, Royal College of Physicians, American Academy of Neurology, European Stroke Organization, African Academy of Sciences, and American Heart Association.