Arthur C. Corcoran Memorial Lecture
Sponsored by the Council on Hypertension
Award submission for Hypertension Scientific Sessions will reopen in spring 2024.
The Arthur C. Corcoran Memorial Lecture, sponsored by the Council on Hypertension, is presented annually at the AHA Hypertension Scientific Sessions by a distinguished honoree from the field of hypertension.
This honorary lecture was established in 1977 in honor of Arthur Curtis Corcoran. Dr. Corcoran's major achievement was his early application of clearance methods in both hypertensive patients and animals.
2023 Kamal Rahmouni, PhD, FAHA
2022 Mark C. Chappell, PhD, FAHA
2021 Markus P. Schlaich, MD, FAHA, FESC, ISHF
2020 John Floras, MD, DPhil, FAHA
2019 Patrick J. Pagano, PhD, FAHA
2018 Virend K. Somers, MD, PhD, FAHA
2017 Tomasz J. Guzik, MD, PhD
2016 Karen Griffin, MD, FAHA
2015 S. Ananth Karumanchi, MD
2014 Sadayoshi Ito, MD, PhD
2013 Mohan Raizada, BSC, MSc, PhD
2012 Robin Davisson, PhD, FAHA
2011 Jan Danser, PhD
2010 Timothy L. Reudelhuber, PhD
2009 Toshiro Fujita, MD
2008 Gregory Fink, PhD
2007 Curt D. Sigmund, PhD
2006 Thomas M. Coffman, MD
2005 Carlos Ferrario, MD
2004 Anna F. Dominczak, MD
2003 Willa A. Hsueh, MD
2002 Gordon Williams, MD
2001 L. Gabriel Navar, PhD
2000 Friedrich Luft, MD
1999 Norman K. Hollenberg, MD
1998 Suzanne Oparil, MD
1997 Alberto Nasjletti, MD
1996 Edward D. Frohlich, MD
1995 Masashi Yanagisawa, MD PhD
1994 Salvador Moncada, MD PhD
1993 Haralambos Gavras, MD
1992 Stevo Julius, MD
1991 Detlev Ganten, MD
1990 Hugh E. deWardener, MD
1989 Aram V. Chobanian, MD
1988 Harriet P. Dustan, MD
1987 Edgar Haber, MD
1986 Robert J. Lefkowitz, MD
1985 Robert C. Tarazi, MD
1984 Wai Yiu Cheung, PhD
1983 Michael S. Brown, MD
1983 Joseph L. Goldstein, MD
1982 Pierre L. Corvol, MD
1981 Bengt Samuelsson, MD
1980 Frederic Bartter, MD
1979 E. Eric Muirhead, MD
1978 J. Ian S. Robertson, MD
1977 Börje Johansson
Eligibility Criteria
Must be a member of the AHA Council on Hypertension at the time nomination is submitted. Join or renew today!
There are no citizenship requirements.
Previous awardees are not eligible to re-enter the competition in subsequent years.
There are no citizenship requirements.
Past recipients of the Lewis K. Dahl Memorial Lecture are not eligible for the Arthur C. Corcoran Memorial Lecture
Past recipients of the Council on Hypertension Excellence Award in Hypertension Research (and all previous names of the award) are not eligible.
Notwithstanding the above, the AHA Officers have the discretion to determine eligibility for the award in extraordinary circumstances when there is an issue relating to AHA policy or positions or other potentially controversial issue relating to the positioning or perception of the AHA.
How to Make a Nomination/Required Documents
Electronic submission through the Council Awards Application System is required. Hard copies of any part of the nomination cannot be accepted. Please follow instructions for ProposalCentral, the new Council Awards platform.
Apply Now for the Hypertension Scientific Sessions Mid-Career Achievement Awards and Lectures and select the HTN Arthur C. Corcoran Memorial Lecture from the award drop down list.
The nomination file (submitted on the nominee's behalf) should contain the following documents in PDF format:
Letter of nomination on behalf of the candidate and one supporting letter that outlines why the candidate is worthy of recognition. This may include the candidate's accomplishments in the field of hypertension, his or her volunteer activities with the AHA (affiliate and/or national level), teaching and mentoring activities, or a combination of these (members of the selection committee cannot submit letters of nomination).
Curriculum vitae and including all publications (abstracts not necessary).
Members of the Council on Hypertension Awards Committee are not eligible to write support letters for applicants.
Prize
The award will be presented at the Hypertension Scientific Sessions.
The honoree will receive:
$1,000 honorarium
Complimentary registration to the Hypertension Scientific Sessions
One complimentary ticket to the Council Dinner
Engraved plaque
Round-trip coach airfare up to $1,200 at the 21-day advance purchase rate to and from the awardee's home airport to the conference
Hotel reimbursement (room + tax) for one night at the conference rate
Ground transportation to and from the awardee's home airport to the conference
Meal reimbursement up to $70 (alcohol excluded)
AHA Professional Members are Difference Makers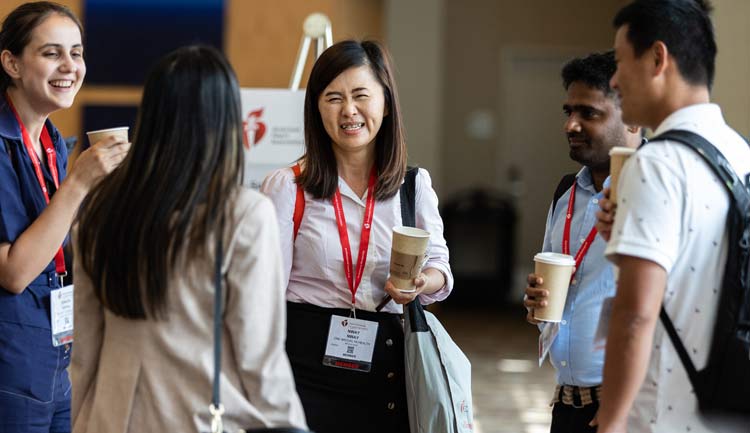 Hypertension Scientific Sessions
September 7-10, 2023
Sheraton Boston Hotel | Boston, Massachusetts
---