Johanna Contreras, MD, MSc, FACC, FAHA, FASE, FHFSA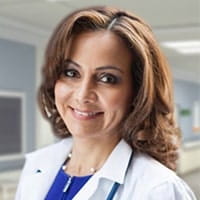 Dr. Johanna Contreras was born and educated in Colombia. She completed her medical education at the Universidad Industrial de Santander and was provided the opportunity to complete her undergraduate medical training at the University of Miami. She was later recruited by Harvard University to lead a research fellowship program in Molecular Immunology.
After publishing in top medical journals, Dr. Contreras decided to pursue further clinical training. She completed an Internal Medicine Residency, a Cardiovascular Fellowship, and a Heart Failure and Cardiac Transplantation Fellowship at Tufts University, then an additional Exercise Physiology research at Harvard Medical School. During her training Dr. Contreras played a major role in multiple medical initiatives, among them, the Clinical Translation Program at the Sackler School at Tufts University. In this program, Dr. Contreras supervised several population studies, community-participatory research and community-based healthcare.
In 2011, Dr. Contreras moved to New York City and became a full time Cardiology, Heart Failure and Cardiac Transplant Attending at The Mount Sinai Hospital, as well as Assistant professor at the Icahn School of Medicine at Mount Sinai. Dr. Contreras then became the director of the Division of Heart Failure at Mount Sinai St. Luke's and Mount Sinai West, and in 2021 she became Associate Professor of Medicine and Director of Diversity and Director of the Ambulatory Heart Failure Network for the Mount Sinai Health System. She is also the Medical Director of the Hispanic Heart Center, a reference center that provides state-of-the-art therapies and interventions for complex cardiac conditions. Dr. Contreras is certified by multiple boards including the American Board of Internal Medicine, American Board of Cardiovascular Disease, National Board of Electrocardiography, Boards of Cardiac Nuclear Medicine and Advanced Heart Failure and Transplant Cardiology. Additionally, she is a Fellow of the American College of Cardiology, a Fellow of the American Heart Association and founding member of the National Hispanic Latino Cardiovascular Collaborative, as well as a Fellow of the American Society of Echocardiography, and a Fellow of the Heart Failure Society of America.