Gladys P. Velarde, MD, FACC, FAHA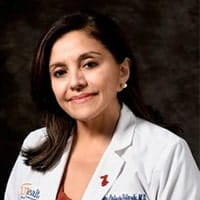 Dr. Velarde's appointments to national association boards and committees have enabled her to advocate for recognition of cardiovascular health issues for women and minority populations. She is fluent in both English and Spanish languages and pursues policy change to improve access to health resources and to improve patient communication with their health providers.
Dr. Velarde's efforts and accomplishments in inclusion and diversity in medical, community and clinical education at the institutional, regional, and national levels were recently recognized by the University of Florida, with the Leon Haley Jr. MD Leadership Award for Inclusive Excellence in June 2022.
Her teaching accomplishments were similarly recognized by the UF Health College of Medicine in Jacksonville with the Exemplary Teacher Award in 2020. Dr. Velarde's teaching accomplishments have also been recognized at the state level, receiving the prestigious Gifted Teacher Award from the Florida State Chapter of the American College of Cardiology in 2017. For her leadership in improving the health of Hispanics, and Women, she is a past recipient of the National Hispanic Medical Association Leadership Award in 2007 and the Women of Distinction Award from the American Heart Association in 2010 respectively. In the public forum, she has received numerous honors and accolades, being featured in the 2020 Jacksonville Magazine Women of Heart Educator Award for her outreach education work in local communities, and most recently named Top Doctor in 2022 by the same organization. She is the past Chair of the Disparities Work Group at the American College of Cardiology Prevention Council and currently is Chair for the Education Committee of the American College of Cardiology, Florida Chapter. Dr. Velarde's contributions to high quality education for practicing clinicians focus on increasing awareness of health disparities and risk factors for women and minority populations.