AHA FIT Newsletter
FIT Young Investigator Awardee Spotlight - Spring 2022 Issue
FIT Young Investigator Awardee Spotlight
Zakaria Almuwaqqat, MD
Cardiology Fellow, PGY-6
Division of Cardiology, Emory School of Medicine
---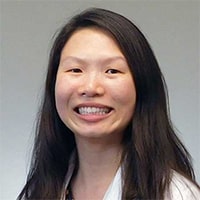 Sasha Prisco, MD, PhD
Fellow, Cardiovascular Medicine
University of Minnesota
@SashaPrisco
Sasha Prisco is the 2021 recipient of the Cournand and Comroe Award which acknowledges the research and accomplishments of early career investigator members of the Council on Cardiopulmonary, Critical Care, Perioperative and Resuscitation (3CPR) and encourages them to continue their research in biomedical sciences.
Your research focuses on RV function in PH. What led you to this area of interest within Cardiology?
We currently have many effective therapies that target multiple different pathways for left ventricular (LV) dysfunction. However, we do not have any pharmacologic treatments that directly target the failing right ventricle (RV) and the drugs used for LV dysfunction have not been shown to work in RV dysfunction. RV function is the greatest predictor of survival in pulmonary arterial hypertension (PAH), which is a lethal disease with a median survival rate of 5-7 years despite multiple drugs that work on the pulmonary vasculature. In addition to trying to improve outcomes for PAH patients, improving RV function will help with multiple cardiovascular diseases (e.g., other pulmonary hypertension patients, patients with biventricular failure, LVAD patients, etc.).
Can you describe for us your research that led you to receive the Cournand and Comroe Early Career Investigator Award?
Our lab is interested in determining ways to improve RV function and survival in PAH. We became interested in intermittent fasting since this has been shown to have survival benefits from single cell organisms to mammals. Using a rat model of PAH (the monocrotaline rodent model), we tested whether intermittent fasting improves RV function and survival. Using a variety of molecular and physiological approaches (proteomics, metabolomics, assessment of the gut microbiome, histology, echocardiography, and invasive hemodynamics), we observed that intermittent fasting augmented RV function and enhanced survival without changing the severity of the pulmonary hypertension, showing that this is an approach that directly improves RV function. In our gut microbiome analysis looking at stool samples, we saw that intermittent fasting increased abundance of the bacteria Lactobacillus. We then supplemented Lactobacillus (which is in probiotics) to the monocrotaline rats, and this was able to recapitulate the benefits on the RV that we observed with intermittent fasting. We are excited about this work since it provides a novel way to improve RV function and Lactobacillus supplementation may be easier for patients compared to intermittent fasting.
What has been the most challenging and most rewarding aspect of conducting this research?
My long-term goal as a physician scientist is to do translational research and bring our lab findings to the bedside. This research has provided me with a lot of opportunities to learn how to do translational research. Our next steps are to bring our lab findings to a larger animal model (pigs) and to begin pilot clinical trials. My training as a physician scientist has been long and arduous (8 years in a MD/PhD program, residency, and now 5 years as a cardiovascular physician-scientist with protected research time built into my cardiology fellowship training). The days are long, but the years are short. There was a lot of troubleshooting that was needed for the experiments. There is always a lot of learning. I never thought as a cardiology fellow that I would be looking at the gut microbiome and jejunum histology! I love what I do and hope to be able to improve outcomes for our patients!
What advice would you give to FITs considering pursuing research in this field?
My advice for anyone doing research is to find good mentors and sponsors - people who care about you personally and professionally. Learn how to do rigorous science and write often. If any of you are interested in RV clinical or translational research opportunities, please come check out our lab (https://med.umn.edu/lhi/research/research-labs/prins-lab)! us, then no one can fault you.