2022 Distinguished Scientist David A. Kass, MD, FAHA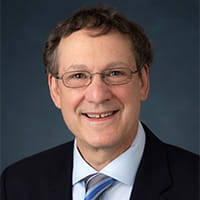 David A. Kass, MD, FAHA
Abraham and Virginia Weiss Professor of Cardiology
Professor of Biomedical Engineering
Professor of Pharmacology and Molecular Sciences
Director, Institute of CardioScience
Johns Hopkins University School of Medicine
Baltimore, MD
David Kass received his BA from Harvard College in Applied Physics and Engineering and MD from Yale University. After Internal Medicine residency at George Washington University, he joined the Cardiology Division at Johns Hopkins University as a fellow, and he has remained there since. He is considered a world leader in the pathobiology and therapy of heart failure, cardiac physiology and mechanics, as well as cyclic GMP-protein kinase G and phosphodiesterase signaling.
His research is expansive, providing innovative landmark studies in many different fields from basic molecular and cellular studies through to human clinical trials. His initial work was as an integrative physiologist studying ventricular and vascular function and identifying mechanisms of human heart failure and hypertrophy. He pioneered pressure-volume analysis in humans and later mice and played a major role in developing cardiac resynchronization therapy (later studied at molecular and cellular levels). In the late 1990's he ventured into molecular/cellular studies of heart failure and cGMP/protein kinase G signaling. He developed novel heart failure therapies, patents, and start-up companies. Recent translational efforts offer treatment for Duchenne Muscular Dystrophy, right and left heart failure, and cardiometabolic disease.
Among his honors are the 2020 Louis and Artur Lucien Award, the AHA Basic Science Award, George Brown Lectureship, and Inaugural Melvin Marcus Award, Peter Harris Distinguished Scholar Award and Innovator Award from the International Society of Heart Research, and National Institutes of Health Outstanding Investigator Award. He lists over 500 original papers, excluding book chapters, garnering >74,000 citations with an H-index of 143. Dr. Kass also directly mentored over 100 students in his laboratory, most are now active in academics and many with leadership roles in cardiovascular research. In his spare time, he plays clarinet, cooks, and is raising a new long-haired dachshund puppy.