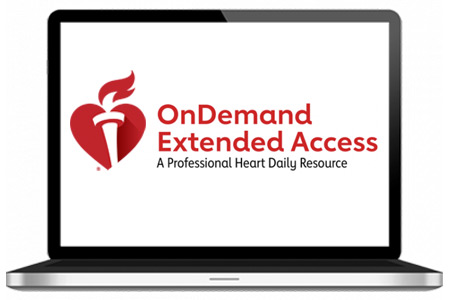 Free for AHA Members
International Stroke Conference 2022 and Scientific Sessions 2021 OnDemand Extended Access!
Access the latest cardiovascular and brain health science anytime, anywhere, and earn CE! Stay current digitally with educational content to match your interests. Learn whenever, wherever — virtually!
If you were unable to attend International Stroke Conference 2022 or Scientific Sessions 2021, or you just want to catch-up on presentations that you might have missed, you can continue to experience the meetings virtually through OnDemand Extended Access.
OnDemand Extended Access is available for FREE to all paid levels of AHA Members.
A New Era for Stroke Science and Brain Health

Watch the world's premier meeting dedicated to the science and treatment of cerebrovascular disease and brain health online from anywhere with Stroke OnDemand Extended Access.

Experience breakthrough basic, clinical and population science updates, and immerse yourself in innovative solutions designed to help you in your daily practice. If you are an AHA Professional Member, you can access all the education, data and expert perspectives from the meeting at your fingertips for FREE with Stroke OnDemand Extended Access.
Read our FAQ (PDF) for more information.
Not an AHA Professional Member, but you still want FREE Extended Access? Become a Member today! (link opens in new window)(link opens in new window)(link opens in new window)
Stroke OnDemand Extended Access Features Include:
Access to over 90 sessions covering 18 different specialty areas
HEADS-UP and Nursing Symposia Pre-Cons
International expert faculty and moderators
Early Career professional development content
Easy to use search and filter functionality
Access to educational sessions through January 31, 2023
Need to earn CE? We've got you covered! See below for more details on our 25-session CE bundle.
Continuing Education Sessions
Want to earn CE credit while viewing sessions? We've curated a 25-session bundle that provides over 30 total hours of Accredited Continuing Education. AHA Members receive access to this bundle for FREE. Non-Members can purchase access for $99. Access to this CE bundle is available through March 31, 2023.