Science News
Joint Hypertension 2018 Scientific Sessions
AHA Council on Hypertension | AHA Council on Kidney in Cardiovascular Disease
American Society of Hypertension
September 6–9, 2018
Hyatt Regency Chicago | Chicago, Ill.
Science from Thursday, Sept. 6
What to Expect at the Joint Hypertension Scientific Sessions 2018
Karen Griffin, MD, programming committee chair for Hypertension 2018, John Bisognano, MD, PhD, immediate past president of the American Society of Hypertension, and Jan N. Basile, MD, vice chair of clinical programming, discuss some of the highlights they have planned for the meeting this year in Chicago.
Macula Densa SGLT1-NOS1-TGF Pathway -- A New Mechanism for Glomerular Hyperfiltration in Diabetes
Jie Zhang | The University of South Florida, Tampa, FL
RESULTS:

The Macula Densa SGLT1-NOS1-TGF Pathway is identified as a new mechanism for glomerular hyperfiltration in diabetes: increase in tubular glucose concentration increases macula densa activity, increasing glomerular filtration rate (GFR).
Interleukin-21 Plays a Critical Role in Hypertension and Vascular Dysfunction
Bethany L Dale | Vanderbilt University, Department of Molecular Physiology and Biophysics, Nashville, TN
RESULTS:

Interleukin-21 may be the 'master' cytokine in the pathology of hypertension and end-organ damage.
Proteasome Inhibition Prevents Renal Inflammation and Hypertension by Abrogation of Dendritic Cell Autoantigen Presentation
David M Patrick | Vanderbilt University Medical Ctr, Nashville, TN
RESULTS:

Proteasome inhibition is identified as a mechanism for prevention of renal inflammation and hypertension.
Global ACE2 Over-Expression is Protective Against a Dysfunctional Brain-Gut-Lung Axis in Hypoxia-Induced Pulmonary Hypertension
Ravindra K Sharma | University of Florida, Gainesville, FL
RESULTS:

Activation of the paraventricular nucleus, gut pathology and an altered gut microbiome, and sympathetic activation are all associated with hypoxia-Induced pulmonary hypertension (PH). Angiotensin converting enzyme 2 (ACE2) over-expression protects against all of these.
Food Insecurity is Associated With Hypertension in Children and Adolescents Independent of Obesity
Andrew Michael South | Wake Forest School of Medicine, Winston Salem, NC
RESULTS:

Food insecurity contributes to health disparities and is associated with hypertension in children and adolescents.
Other science highlighted Thursday:
Associations Between Sleep, Physical Activity and Blood Pressure Among Black Women: Baseline Results From the SisterTalk At Home Intervention for Weight Loss
Augustine W. Kang | Brown University, Providence, RI
Science from Friday, Sept. 7
Stopping the Progression of Hypertension to CHF
Jan Basile, MD, vice chair of clinical programs for the Council on Hypertension, interviews Daniel Levy, MD of the NHLBI about his presentation, "The Progression from Hypertension to Congestive Heart Failure: How Do We Stop It?"
Hypertension Early Career Oral Award Finalists
Sox6 Has Protective Role During Renal Artery Stenosis Induced Hypertension
Mohammad Saleem | Vanderbilt University Medical Center, Nashville, TN
RESULTS:

Novel role suggested for Sox6 in the regulation of renin expression and hypertension when renal artery stenosis is present.
Cardiac Mitochondria are Impaired After Transient Neonatal High Oxygen Exposure in a Rat Model of Prematurity-Related Condition
Daniela Ravizzoni Dartora | Department of Pediatrics, University de Montréal and CHU Sainte-Justine Research Center, Montréal, QC, Canada
RESULTS:

A prematurity-related model found O2-induced cardiomyopathy resulted from high neonatal oxygen exposure similar to preterm birth conditions.
WINNER Sorting Nexin 19: A Novel & Key Player in Renal Dopamine D1R Regulation
Andrew C Tiu | Albert Einstein Medical Center, Philadelphia, PA
RESULTS:

Sorting Nexin 19 plays a key role in renal dopamine D1R signaling and protein function.
Impact of New Clinical Practice Guidelines on Cardiovascular Disease Risk Assessment in an Obese Pediatric Population
Edem Binka | Johns Hopkins Hospital, Baltimore, MD
RESULTS:

Adiposity was more predictive of left ventricular hypertrophy than HTN in this small study of 54 youth at an obesity HTN clinic.
Endothelial-Derived Microparticles as Biomarkers and Mediators of Endothelial Cell Injury in VEGF Inhibitor-Treated Cancer Patients: Implications in Hypertension
Karla B Neves | University of Glasgow, Glasgow, United Kingdom
RESULTS:

Endothelial-derived microparticles provide clues to the mechanisms for hypertension in VEGF inhibitor-treated cancer patients.
Hypertensive Urgency: An Emergency Department Pipeline to Primary Care Pilot Study
Antonio Giaimo | Yale University, New Haven, CT
RESULTS:

For patients with seriously elevated BP, collaboration between the ER and referral for primary care follow-up significantly reduces BP, offers timely care, and reduces emergency department (ED) utilization.
Other science highlighted Friday:
Hypertensive Crisis in an Inner-City Population: A Retrospective Case Control Study
Frederick Waldron | Newark Beth Israel Medical Center, Newark, NJ
Friday's Lectures and Award Winners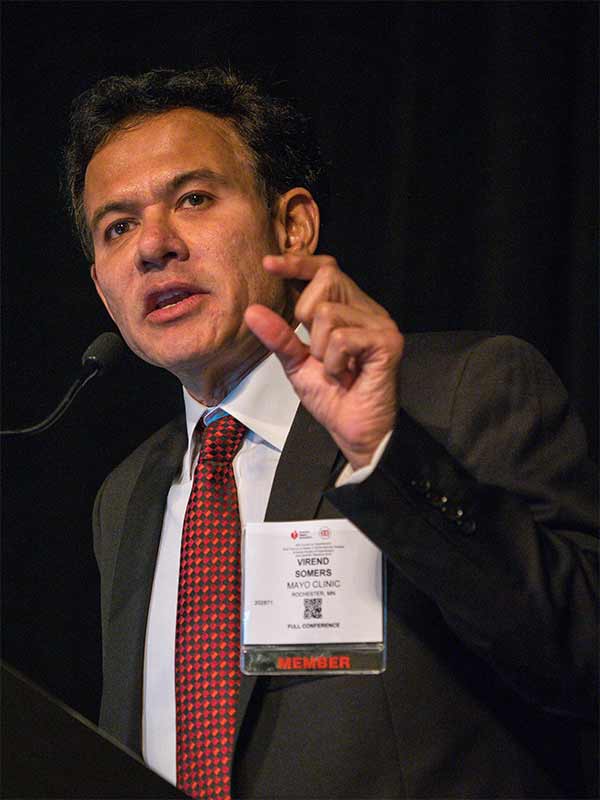 Arthur C. Corcoran Memorial Lecture
Virend K. Somers, MD, FAHA | Mayo Clinic College of Medicine, Rochester, Minnesota
Mid-Career Award for Research Excellence
Jennifer C. Sullivan, PhD, FAHA | Augusta University, Augusta, Georgia
The Harry Goldblatt New Investigator Award
Amy C. Arnold, PhD, FAHA | Pennsylvania State University College of Medicine, Hershey, Pennsylvania
Science from Saturday, Sept. 8
The Effect of Environmental Factors on Blood Pressure
Karen Griffin, MD, program chair for Hypertension 2018, interviews Robert Brook, MD about his presentation, "How Do Environmental Factors Effect Blood Pressure?"
Mechanism of Action of 8-Aminoguanine on Renal Excretory Function
Edwin K Jackson | University of Pittsburgh School of Medicine, Pittsburgh, PA
RESULTS:

Mechanism of action of 8-Aminoguanine on renal excretory function suggests blocking PHPase and Rac1 inhibition.
Sub-Perception Transdermal Vagal Stimulation in Postural Tachycardia Syndrome
André Diedrich | Vanderbilt Medical Center, Nashville, TN
RESULTS:

Supine cardio-vagal function in postural tachycardia syndrome (POTS) patients was improved by auricular transdermal vagal stimulation at a sub-perception threshold.
Lifestyle Interventions Reduce the Need for Guideline-Directed Antihypertensive Medication
Alan Hinderliter | University of North Carolina, Chapel Hill, NC
RESULTS:

Lifestyle interventions in overweight or obese men and women with hypertension reduced the number who needed medications.
Ambulatory Blood Pressure Phenotypes and Cardiovascular Target Organ Damage in Adolescents: The SHIP AHOY Study
Elaine M Urbina | Cincinnati Children's Hospital Medical Center, Cincinnati, OH
Joshua A Samuels | University of Texas Health Science Center at Houston, Houston TX
RESULTS:

The SHIP AHOY Study: Ambulatory blood pressure measurement added to office measurements to define a BP phenotype improved target organ damage (TOD) risk stratification.
Other science featured Saturday:
Improving the Management of Hypertension for Adults: The Impact of Home Blood Pressure Monitoring and Lessons Learned from a System-Level Hypertension Control Initiative
Roy R. Champion Jr. | Scott & White Health Plan, Temple, TX
Saturday's Lectures and Award Winners
The Harriet Dustan Award
Barbara T. Alexander, PhD, FAHA | The University of Mississippi Medical Center, Jackson, Mississippi, pictured with Karen Griffin, MD, FAHA
The Donald Seldin Lecture
Paul A. Welling, MD, FAHA | University of Maryland School of Medicine, Baltimore, Maryland, pictured with Vivek Bhalla, MD, FAHA
Science from Sunday, Sept. 9
Early Career Oral Award Winner Andrew Tiu, MD
Christian Delles, MD and Augusto Montezano, PhD, interview the 2018 Early Career Oral Award winner Andrew Tiu, MD, about his paper, "Sorting Nexin 19: A Novel and Key Player in Renal Dopamine D1R Regulation."
2018 Irvine Page Alva Bradley Lifetime Achievement Award Winner William C Cushman, MD
Joey Granger, PhD, chair of the Council on Hypertension, interviews the 2018 Irvine Page-Alva Bradley Lifetime Achievement Award winner William C. Cushman, MD, about his career in clinical research in hypertension.
Endothelial Cullin3 Mutation Causes Vascular Dysfunction, Arterial Stiffening, and Hypertension
Jing Wu | University of Iowa, Coralville, IA
RESULTS:

The mechanisms for hypertension caused by mutations in endothelial Cullin-3 were partially explained by a vascular mechanism causing endothelial dysfunction.
Axl+ Siglec6+ Dendritic Cells: the Role of Salt, Stretch, and Hypertension
Justin P Van Beusecum | Vanderbilt University Medical Center, Nashville, TN
RESULTS:

Axl and Sigelc6+ dendritic cells (AS DCs) may represent an immune cell subset in human hypertension.
The Marvin Moser Clinical Hypertension Award
The 2018 Moser award was presented to Brent M. Egan, MD, FAHA. He is pictured with Jan Basile, MD, and Joey Granger, PhD.