2023–2024 NHLCC Scholar: Jasmine Vazquez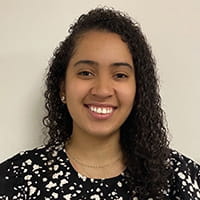 Jasmine Vazquez
MD Student
Albany Medical College
Jasmine Vazquez is a third-year medical student at Albany Medical College originally from the Boston area. She attended the University of Connecticut where she received her Bachelor of Science in Molecular and Cell Biology & Urban Community Studies.
Growing up, Jasmine witnessed her family and members of her Latino community struggle in accessing adequate healthcare—a journey marked by cultural, language and educational barriers. Her calling to become a physician is fueled by addressing these disparities within the healthcare system that are rampant in Latino communities.
Throughout her medical school journey, Jasmine has been actively involved in a variety of on-campus activities and research endeavors. She served as a co-leader in the Internal Medicine Interest Group, co-founded the Cardiology Interest Group, and was a co-leader for a mentoring program with refugee children in Albany.
As a first-generation college graduate, Jasmine is committed to guiding fellow Latinos pursuing a career in medicine. She mentors medical students through both the national chapter and her medical school's chapter of the Latino Medical Student Association.
In 2022, she was a Summer Research Fellow at the Whitaker Cardiovascular Institute at Boston University School of Medicine where she also became an Evans Student Scholar.
As an NHLCC Scholar, her goals extend beyond personal growth. In addition to utilizing the wisdom, mentorship, and resources to promote cardiovascular health equity, she seeks to be involved in important conversations and clinical projects that will help shape the trajectory of Latino care. Jasmine envisions a future where healthcare barriers faced by the Latino community are dismantled.
In her free time, she enjoys cooking, playing piano and spending time with her family.