Science News from Vascular Discovery 2019
Vascular Discovery: From Genes to Medicine
Scientific Sessions 2019
Formerly ATVB|PVD Scientific Sessions
May 14–16, 2019
Marriott Copley Square Hotel | Boston, Massachusetts
Sponsored by: Arteriosclerosis, Thrombosis and Vascular Biology Council
Peripheral Vascular Disease Council and Genomics & Precision Medicine Council
This is where you'll find exclusive science content from Vascular Discovery 2019. For coverage from previous years,
check our archive page
.
2019 Early Career Investigator Award Recipients
Katey Rayner | Ottowa, ON, Canada

Extracellular Vesicles Secreted by Atherogenic Macrophages Transfer microRNA to Inhibit Cell Migration
Jan. 1, 2018 | ATVB
Keith B. Neeves | Golden, CO

Platelets Drive Thrombus Propagation in a Hematocrit and Glycoprotein VI Dependent Manner in an in vitro Venous Thrombosis Model
May 1, 2018 | ATVB
Katherine A Gallagher | Ann Arbor, MI

Ly6CHi Blood Monocyte/ Macrophage Drive Chronic Inflammation and Impair Would Healing in Diabetes
April 1, 2018 | ATVB
Wednesday's selected science
Intersections between the vascular system and cancer
Kathleen Martin, PhD interviews Rosandra Kaplan, MD about her research on perivascular cell plasticity in metastatic progression, which she presented Wednesday morning in the plenary session "Intersections Between the Vascular System and Cancer."
Lessons from the AHA Strategically Focused Research Network on Vascular Disease
Aruna Pradhan, MD, MPH, chair of the AHA Council on Peripheral Vascular Disease, interview Francis Miller, MD, Director of the Oversight Committee for the AHA SFRN on Vascular Disease about the lessons being learned from this new approach to research.
More newsworthy science presented Tuesday
Young Investigator Awards
ATVB Kenneth M. Brinkhous Young Investigator Prize in Thrombosis Finalists
The Brinkhous Prize recognizes outstanding endeavors by new investigators in fundamental and applied research in thrombosis.
Ashley Brown | North Carolina State University, Raleigh, NC
Lacramioara Ivanciu | Children's Hospital of Philadelphia / University of Pennsylvania, Philadelphia, PA
Ze Zheng | Columbia University Medical Center, New York City, NY
ATVB Irvine H. Page Young Investigator Research Award Finalists
The Page Award encourages investigators to continue careers in arteriosclerosis and vascular biology and recognizes talented investigators at an early or beginning point in their careers.
Alison B Kohan | University of Connecticut, Storrs, CT
Ekaterina Koltsova | Fox Chase Cancer Center, Philadelphia, PA
Bhama Ramkhelawon | NYU Medical Center, New York, NY
More newsworthy science presented Wednesday
Thursday's selected science
2019 Mentor of Women Award Winner Nancy Webb
Mary Sorci-Thomas, PhD interviews the Vascular Discovery 2019 Mentor of Women Award Winner Nancy Webb, PhD.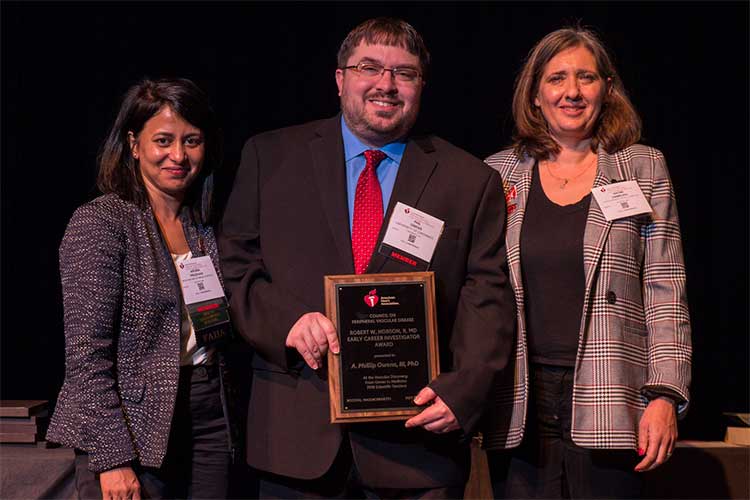 Robert W. Hobson II MD Early Career Investigator Award
Winner A. Phillip Owens III, PhD, of the University of Cincinnati is flanked by AHA volunteers Aruna Pradhan, MD, MPH and Naomi M. Hamburg, MD, MS.
Alan T. Hirsch MD Mid-Career Award in Vascular Medicine
Pictured left to right: Aruna Pradhan, MD, MPH, award winner Ashish K. Sharma, MBBS, PhD of the University of Florida, and Naomi M. Hamburg, MD, MS.
Acute Myocardial Infarction Accelerates Breast Cancer Progression Through Innate Immunity
Kathryn Moore | New York University Langone Health, New York, NY
RESULTS:

In animal models of breast cancer, an acute myocardial infarction (AMI) increased tumor growth and metastatic burden with changes in the tumor microenvironment and tumor immune cell.
Coronary Artery Disease-associated Genetic Variants Increased Lipa Expression and Overexpression of Lipa Induced Atherogenic Phenotypes in Macrophages
Fang Li | Department of Medicine, Columbia University Irving Medical Center, New York, NY
RESULTS:

Genetic variants associated with coronary artery disease increased LIPA expression which caused more atherogenic phenotypes in macrophages.