Science News
International Stroke Conference 2019
Nursing Symposium & Pre-Con Symposia: Feb. 5, 2019
Sessions: Feb.6–8, 2019
Honolulu, Hawaii
Wednesday's Selected Science
SHINE Trial Results
Louise McCullough, MD, vice chair for ISC 2019, interviews Karen Johnston, MD, principal investigator of the SHINE trial about the results and their significance for patients and clinicians. (Jump to the SHINE science)
RIGHT-2 Interview with PI Philip Bath, MD, DSc
Louise McCullough, MD, PhD interviews Philip Bath, MD, DSc, principal investigator of the RIGHT-2 trial, about the prehospital administration of TNG in ultra-acute stroke. (Jump to the RIGHT-2 Science)
Stroke Hyperglycemia Insulin Network Effort (SHINE) Trial Primary Results
Karen C Johnston | University of Virginia, Charlottesville, VA
RESULTS:

90-day functional stroke outcomes were not improved with IV insulin therapy for hyperglycemia in AIS compared to standard insulin injections.
Glyceryl Trinitrate for Pre-hospital Ultra-acute Stroke: Main Results From the Rapid Intervention With Glyceryl Trinitrate in Hypertensive Stroke Trial-2 (RIGHT-2)
Philip M Bath | University of Nottingham, Nottingham, United Kingdom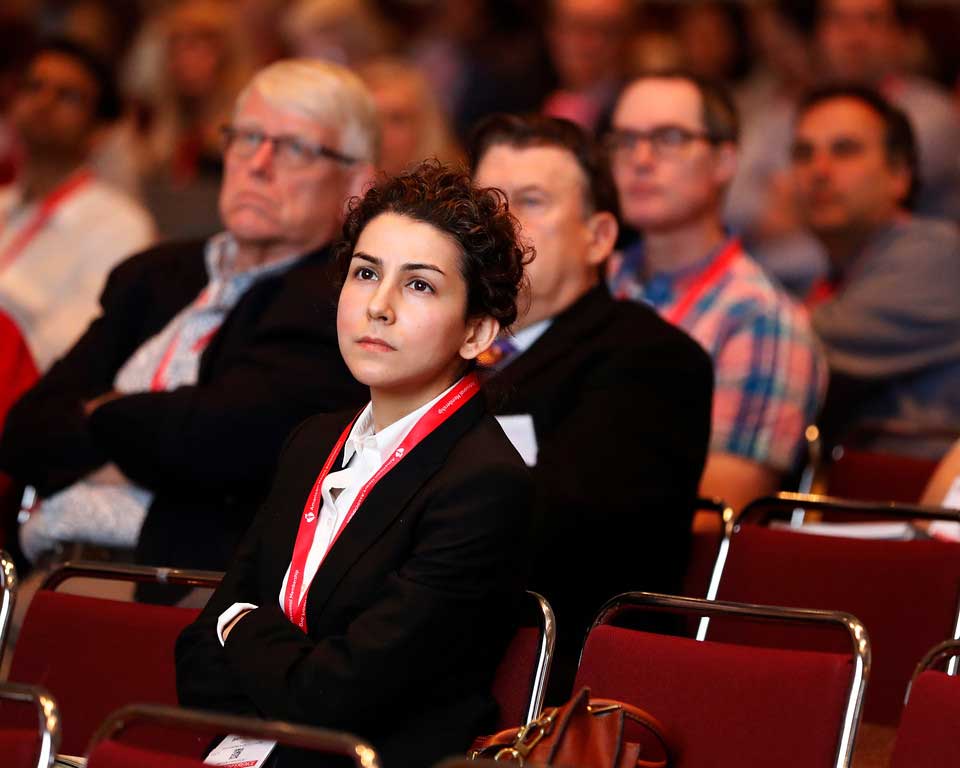 Audience members listen to a presentation on Wednesday at ISC19. See and share more photos from the conference.
If you missed AHA/ASA president Ivor Benjamin addressing the conference, read his speech here.
Attendees shared ideas and made new friends at the Advance Practice Providers Luncheon on Wednesday.
Thursday's Selected Science
MISTIE 3 Results
Bruce Ovbiagele, MD, MSc, MAS, MBA interviews Dan Hanley, MD and Issam Awad, MD, co-principal investigators of the MISTIE 3 trial about what the clinical and surgical results suggest for treating patients with ICH. (Jump to the MISTIE science)
ISPOT Results
Louise McCullough, MD, PhD interviews Nina Gentile, MD, principal investigator of iSPOT, about the purpose and results of the trial and how it relates to the SHINE trial presented on Wednesday. (Jump to the iSPOT science)
ISC19 Thursday Science Highlights
Louise McCullough, MD, PhD and Miguel Perez-Pinzon, PhD review select science presented on Day 2 of ISC 2019 in Honolulu.
Endovascular Therapy Outcomes in Large Core
Peter Panagos, MD interviews Amrou Sarraj, MD about his recent work on endovascular thrombectomy outcomes in large core, which he presented in multiple sessions for ISC 2019. (Jump to the EVT Large Core science)
Friday's Selected Science
The Paola DeRango Memorial Session | Women in Stroke
Moderators Stacie Demel, DO, PhD and Dawn Kleindorfer, MD, discuss the topics planned for The Paola DeRango Memorial Session | Stroke in Women Throughout the Life Course: An International Perspective and why research on stroke in women specifically is so important.
Extending the Thrombolytic Time Window to 9 Hours for Acute Ischemic Stroke Using Perfusion Imaging Selection - The Final Result
Henry Ma | Monash University, Clayton, Australia
RESULTS:

This trial was stopped early. Using perfusion imaging selection in AIS patients presenting 4.5-9 hours from stroke onset or with a wake-up stroke were selected to receive either alteplase or placebo. Better functional outcome at 3 months was noted in the alteplase group.
Intracerebral Hemorrhage Deferoxamine (iDEF) Trial: Main Results
Magdy H Selim | Beth Israel Deaconess Medical Center, Boston, MA
RESULTS:

The use of intermediate doses of deferoxamine for 3 days after intracerebral hemorrhage to remove iron from hemolyzed blood did not improve recovery and neurological function at 3 months, but potential outcome benefits were seen at 6 months.
Telerehabilitation in the Home versus Therapy In-Clinic for Patients With Stroke
Steven C Cramer | University of California Irvine, Orange, CA
RESULTS:

Telerehabilitation was not inferior to in-clinic therapy with similar improvement in arm motor status and in educating patients about stroke risk factors and prevention.